What to do when your house has a tall single step?
We recently finished a beautiful kitchen remodel for a client that had just that problem. I visit homes just about every day of the week so throughout the years I have encountered so pretty awkward and unusual sets of steps.
Anything over 8" is not only an uncomfortable height for a step its dangerous. it felt like the first rung of a ladder when you entered the kitchen from the sun room. The client contracted with my company KraftMaster after seeing our design capabilities for the remodel and on the way out Robin Finnegan our kitchen designer almost tripped down the step on her way out. Robin said to the client "you really should do something about that step"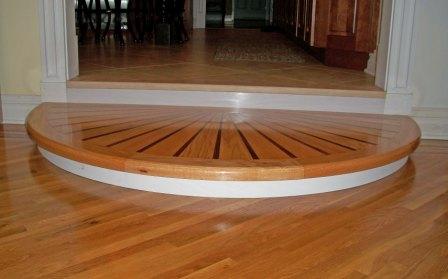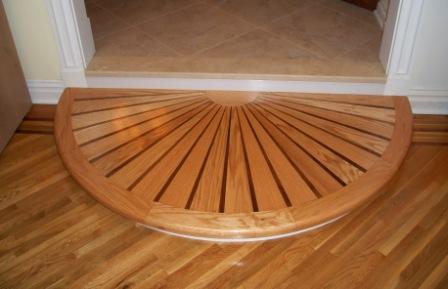 What we suggested is to make a custom medallion platform step to provide a safe comfortable landing zone for a heavily used entry way to the backyard which is accessed through the Sunroom. The challenge was that there is nothing readily available for such situations so we proposed had to be fabricated. Kitchen Designer, Robin Finnegan turned to one of our custom fabricators, a perfectionist and old world Craftsman, Phil Keck. With her design in hand he created this stunning oak medallion platform, hand finishing it to match the existing flooring. He added walnut inlays which provides visual interest and character. The dark contrasting color ensures the eye catches that there is a step so you don't accidentally trip.
Riser
For residential staircases, the National Building Code has set the maximum riser height at 8-1/4 inches. The riser is the back of the step that makes it "tall," not the part you walk on. Making your steps less than 8-1/4? tall is acceptable and may be beneficial if there are elderly or disabled people living in the home .
| | | |
| --- | --- | --- |
| Custom Medallion Step – Kitchen | Concept for Kitchen Step | Original Step @ 9.5 inches high |
| | | |
Tread
The tread is the part of the step that your foot steps on as you ascend or descend a staircase. The minimum tread depth is 9 inches, which allows enough for a solid footing while traversing the stairs. Wider, or mixed size, treads are generally allowed on spiral staircases or staircases with a landing and twist. A tread depth of more than 9 inches is acceptable, especially if the staircase will be used by elderly or disabled people. Deep treads can also provide an elegant-looking staircase.



Nose
Some steps have a lip or "nose" which protrudes over the tread of the step. The building code allows no more than a 1-inch nose for such types of steps. More than 1 inch could cause someone's foot to become entangled on the tread.

Clear Width
The generally acceptable width of a stairway is 36 inches, including handrails. This is called the "clear width." The clear width allows the user to have a wide enough area to walk, and additionally allows people to pass each other on the steps safely.

Headroom
One additional measurement that needs to be looked at is the headroom. The NBC has instituted a minimum height of 6 feet, 8 inches, which is measured from the landing to the ceiling directly above it. This height should be maintained throughout the staircase.

Types
There are many types of staircases found in homes, including "floating" steps in which there is no visible riser. This type of staircase is still bound by the requirements of an 8-1/4-inch riser measurement. Spiral staircases, as well as those with multiple landings, allow for a variation in tread depth, but generally adhere to the same measurements for step risers and overall width.