Your kitchen is where the culinary magic happens. This is why storage solutions for the kitchen are in demand. Keeping all the cutlery and kitchen supplies all in their right places can get particularly tiring especially when you have nowhere to store them!
To avoid storage dilemmas, here are some tips you can try out for your food preparation hub to keep everything in order. Having an organized kitchen can make working in there more enjoyable, so why not try out these storage solutions for the kitchen?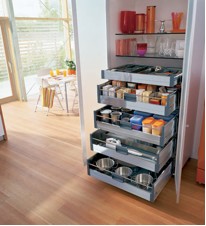 Invest on minimalist utensils holders – You can store your dishes and other utensils even atop your counters by investing on minimalist utensils holders for your kitchen. These can be in the form of wire racks which take up vertical instead of horizontal space, or hanging paper towel holders you can place on the bottoms of your top shelves.
Pay attention to your waste bin – You can make your space look more organized by having an enclosed waste bin. This way, you can also keep the smell at bay by having closed bins. Invest on a waste bin with compartments for biodegradable and non-biodegradable materials. This way, you can even recycle should feel up to it, or make your own compost pit.
Maximize the space underneath your sink – There are different kinds of sink space organizers you can use to maximize kitchen space. Store your cleaning materials underneath the sink and have that space designated for these cleaning tools and supplies.
Consider mounted knife storage – On-counter knife blocks may appeal to some, but they can take up quite a good amount of space. Why not look for a mounted knife rack you can place on one of your walls? This way, your knives take only a slim amount of space and you do your counter the favor of having one less on-counter storage unit.
Try out open shelves – Open shelves can give you the comfort of easily seeing your supplies and being able to freely move your items around. Your open shelves can be filled with your cans and stackables while also being able to hold bigger pots and pans.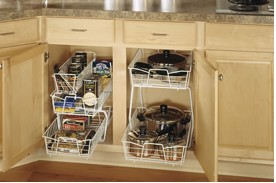 Make use of your island – You have a whole lot of space underneath your island! You can even considering a drawer-type waste bin in your island for when you prepare a lot of your food there, or have a surface on the counter where you can drop the items you need to discard right into the removable waste bin underneath. Instead of having just a solid block of material supporting your island, consider placing more drawers or cabinets and maximize the space you have.
Make use of the space in between – Your kitchen is filled with nooks and crevices you can still make use of. See that space on top of your refrigerator or the in between it and the counter? You can find slim plastic shelf-like containers and slip them in between those spaces to hold other kitchen items. You can also craft one yourself if you especially like DIY projects for more customized a fit!
Try corner units – If you have especially big pots and pans, you will benefit from having a corner unit drawer or storage. You can easily open this without having to close another door to get what you need! A similar thing you can invest on is a slim floor to ceiling drawer which you can have custom-made for your kitchen.
Making the most use of your kitchen space isn't impossible. Try out the techniques mentioned above and keep your eyes open for possible innovative kitchen storage units or designs which you can implement in your very own space at home.