Bob Gockeler - Owner
My vast experience in general contracting is coupled with a keen sense of design that is a unique blend, not often found in the world of contracting. I have designed hundreds of projects from simple remodels to complete additions.
I strive to be a local go-to place for people who want that small-town touch, who appreciate the type of personal attention that you can only get by dealing directly with the owner of a company. Blending design and creativity with my years of building and construction assures my clients the best possible solutions for their home remodeling projects. I have been able to take on the seemingly impossible and make dreams come true for my clients.
People have always marveled at my sense of style and color. I have a natural ability for seeing "what could be." I've been involved in building and remodeling for over 20+ years and that experience gives me insight into how a space could be transformed. I now have the best of both worlds with Kitchen Intuitions and KraftMaster Renovations, it has given me the opportunity to not only design, but remodel a project from start to finish.
To contact Bob about your remodeling needs:
908-517-5581
908-517-5627

This email address is being protected from spambots. You need JavaScript enabled to view it.
Kimberly Platt - Senior Designer
With a background in interior design and a love of cooking, kitchen design falls right into place for Kimberly Platt. From an early age, Kim was exposed to construction, art, and antique furniture and learned to appreciate and respect all elements of design . Now, as a kitchen & bath designer, she can incorporate that appreciation into her design details.
Kim has 8 years of experience in kitchen, bath and interior design as well as a design degree from Berkeley College. She has worked in Northern New Jersey and New York State and is happily settled here in the Essex/Morris county area.
As member of the NKBA (National Kitchen & Bath Association) and an Allied Member of ASID (American Society of Interior Designers she is able to stay current on the ever changing trends in design. She is preparing for the next NCIDQ exam to become a Certified Interior Designer and a professional member of ASID and is also taking courses to become a Certified Kitchen Designer (CKD).
To contact Kim about your designing your next project:
908-517-5581
908-517-5627

This email address is being protected from spambots. You need JavaScript enabled to view it.
Maureen Madigan - Interior Designer
Maureen has over 18 years of experience in construction and remodeling with over 11 years designing kitchens and bathrooms. In addition to her years of experience, she studied Architectural and Construction Technology. Her experience working with all budget levels has given her a unique perspective on economical design solutions. Because of her hands on familiarity with all aspects of construction, she has an extensive knowledge base in order making sure her clients' design dreams can be realized.
Some of Maureen favorite projects are larger additions that involve creative space planning solutions. She is an expert at seeing the whole picture of the house and making practical suggestions to accomplish most, if not all, of her client's wish list.
To contact Maureen about your designing your next project:
908-517-5581
908-517-5627

This email address is being protected from spambots. You need JavaScript enabled to view it.
Robbie Gockeler - Expediter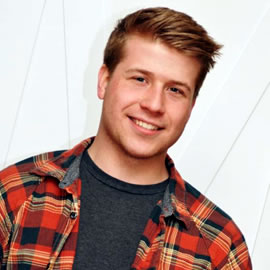 Having being around construction his whole life it was only his destiny to follow in the footsteps of his father. Robbie Gockeler has been building and using tools since he was a young teen. He attended 5 years of woodworking where he learned the fundamentals of furniture and cabinetry making. This led him right through the doors of the family business.
Robbie began as an apprentice in the field learning every phase of renovations from demolition through punch-list. Working with each trade specialist beginning with framing, electrical, plumbing, sheetrock, painting, tiling and cabinetry. Having hands on experience has given him a better understanding the remodeling process. His primary responsibilities are managing inventories, material procurement and on-time deliveries. He acts as the company liaison with the building departments and has developed great relationships with municipal inspectors.
He is an active member of NARI (National Association of Remodeling Industry). Currently he is taking courses to become a certified Project Manager, (CPM). He is ambitious to continue his education and broaden his knowledge of the kitchen and bathroom industry.
---
Anatoliy Bogutskiy -

Master Carpenter



Andril Rozkvas -

Master Carpenter



Alex Ortin
- Master Tiler
Walter Kovalyuk -

Senior Carpenter
Taras Bogutskiy -

Carpenter
Volodymyr Chaykivskyi -

Carpenter
Yurri Pavlovskyi -

Carpenter
Taras Pekhovych -

Carpenter
LAVENBURG ELECTRIC - License # 34EIO14721
Scott Lavenberg -

Master Electrician



Chris Lavenberg -

Electrician



Tim Bloomfield - Electrician
---