Basement Refinishing, Renovation, and Remodeling New Jersey and NNJ Counties


Why should you remodel your basement?
If you have space in your basement, and it is unfinished, you might consider it a waste of space. After all, the basement is part of your home, and it is usually easily accessible from the rest of your house. Having all of that space down there and being unable to use it is very frustrating. Many people do basement upgrades with KraftMaster Renovations because they would like to be able to finally use their entire home.
Basement upgrades with KraftMaster Renovations increases the property value of a house because it gives you more livable space. The space can be used for just about anything, which means that your basement upgrades with KraftMasters project can be tailored exactly to your needs.
Increasing the amount of livable space is perhaps the most common reason to do basement upgrades with KraftMaster Renovations. For a husband that has a huge collection of bowling trophies, or the wife that really needs a room in which to do her scrapbooking, basement upgrades with KraftMaster Renovations can be a great project.
Many families allow their teenagers to move into basement rooms as they get older, which gives them more privacy and more independence as well. No matter what your particular reasons might be for doing basement upgrades with KraftMaster Renovations, there are several important things for you to remember.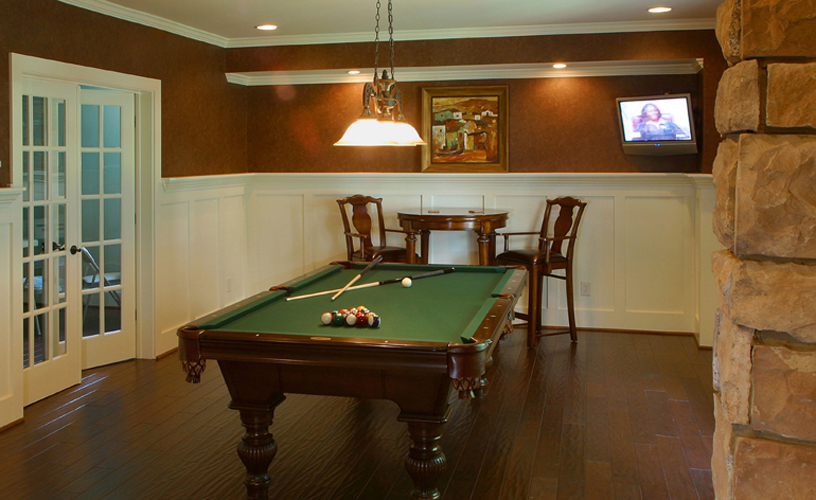 Insulating the Basement
Insulation separates the cool foundation walls from the mild interior, creating a more comfortable living area at a low cost, making heating and cooling the basement easier and cheaper. According to DOE, typical annual energy savings after properly insulating a 1,500 SQFT basement ranges from $250/year in Washington, D.C. to $400/year in Minneapolis.
The best type of basement insulation is a type of rigid polystyrene glued directly against the foundation wall. Insulation joints should be sealed with mastic and mesh tape so warm, moist basement air will not come into contact with the cool basement foundation wall, which can create mold problems. Rigid insulation glued to the outside foundation usually works best for newer homes. A 6-inch gap needs to be left between the top of the outside insulation and any wood construction or termites can use the insulation as a pathway to the home.
Basement Flooring
There are many flooring options, but including a subfloor above concrete will help to make it more comfortable and it will keep the finished floor away from direct contact with the cool concrete. This will soften and warm
Game Rooms and Play Rooms
Basements are usually wide-open areas that have a lot of square footage, making them perfect for game rooms and children's play rooms. It's a great way for children to run and play around in a main area of the home without adding clutter to the living room. Carpeted or padded flooring will provide safety from falling.
Recessed lighting is great addition to a children's play area, making the room brighter and reducing the risk of breakage because the lights are not hanging from the ceiling, they are protected because they are housed inside the ceiling. Another great idea is adding covers to electrical outlets, especially with younger children.

Gym's and Fitness Areas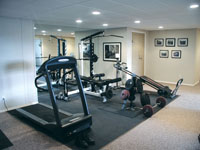 Creating a space to workout is one of the simplest transformations for basement areas. A major issue with home gyms in the basement is poor ventilation and waterproofing. Having moisture in your basement with poor ventilation will breed mold and mildew. This can be a major health hazard because when exercising you will be breathing heavily.
Adding a padded flooring or workout mat is also very important because concrete has been known to induce foot and ankle injuries. Mounting mirrors on the walls and using brightly colored paints can help make the room brighter and make your workout area seem larger.

Home Entertainment Theaters
Many homeowners spend a lot of time and money selecting a great TV and sound system for their basements but take little time to consider the design and furniture to accommodate the electronic equipment. Make sure to select or build furniture that will hold the wires necessary for the electronic equipment.
Dangling wires are not only unattractive; they can also be a fire hazard. Ventilation systems are also very important for home theaters in the basement. Electronic equipment can overheat and will be permanently damaged without proper ventilation.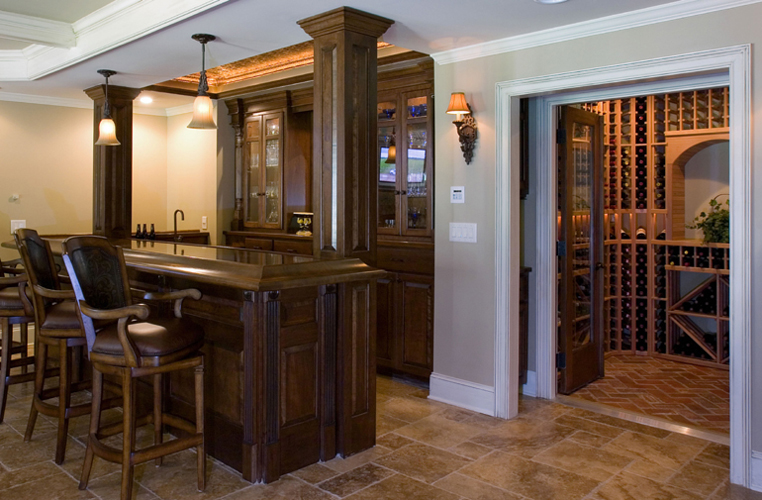 Basement Bar Areas
Any basement can be transformed into a bar with anything from a simple bar area with refrigerator to something more elaborate with running water, a wine fridge, dishwasher, and microwave. Lighting is one of the most important parts of a home bar. The mood and overall atmosphere will be affected by the lighting you choose to install.
A climate controlled wine cellar can also be installed in confined spaces, making a great addition to any bar, without taking up valuable space.

Accentuate the Positive
The obstacles that come with basement renovation territory are many: little to no natural light, exposed ductwork, concrete structural beams and low ceilings are just a few problems many homeowners encounter when planning a basement remodel. But instead of looking at the lowest room in your home as a hopeless case, consider the positive aspects the space provides.
Ductwork can be boxed in with hollow beams or drywall, creating an interesting coffered or soffit ceiling. Or, copper or tin square suspended ceiling panels can lend a historic feeling." Have a more modern sensibility? We suggest painting exposed mechanical parts and joists black to create a trendy loft-like ambiance.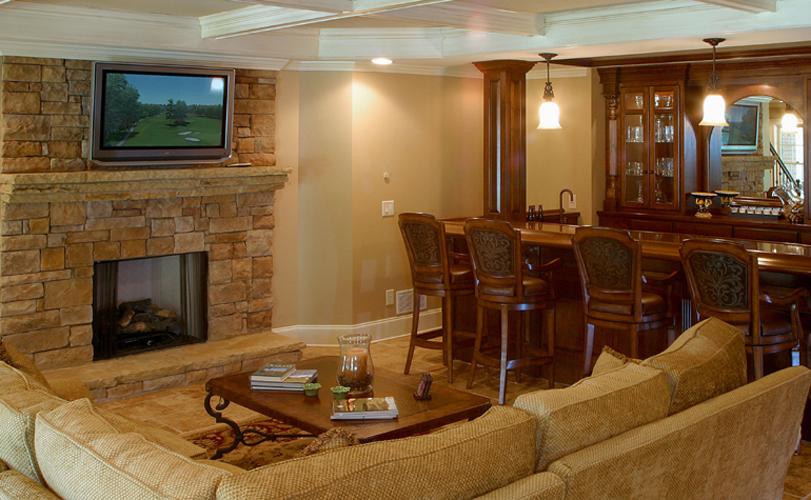 Choose the Purpose Wisely
Choosing the right purpose for the room and planning it wisely can give homeowners a head start on making the area more inviting. The first thing to do is detail what activities you would like to accommodate. Game rooms with a billiards table, poker table, arcade games and bar are well-suited to a basement space because you don't have to worry about the weight of the equipment. Creating a moody, masculine game room is a breeze in a dark basement.
Another room that uses a basement's natural characteristics to its advantage is a home gym. A room that benefits from the cold, like a gym, is a good choice for a basement makeover. Other rooms that work well in basements include home theaters which benefit from the naturally dark character of the room, and family lounges because the sheer open area in the basement gives little ones room to run and explore.
Let the Light Shine In

One of the most commonly cited problems in basement spaces is the lack of natural light. But with some careful planning and creative lighting design, even this seemingly fatal flaw can be corrected.
As you plan for basement lighting, remember you will likely need more light than in other places of the home because the basement is located below grade, natural light does not provide the baseline ambient light that is found in the above-ground floors.
That doesn't mean, however, that quantity should rule over quality in basement lighting design. Tricking the eye to see natural light is one way to make a basement space feel more inviting. To supplement the light that would typically come from a window, consider washing the walls with light, using recessed can lights close to the walls, or even energy-efficient fluorescent linear fixtures hidden in a cove.
When choosing your lighting, think about the room vertically, considering the effect each level will have on the room's feel.
Light is best created in layers: ambient or general lighting, task or specific lighting, and accent or decorative lighting. Soffit lighting and bookcase lighting are great enhancement for accent lighting, and torchieres work especially well in corners since they bounce light up the corner and across the ceiling.
Finally, when choosing your fixtures, think not only about the light they give out but also their look in relation to your space. Shorter lamps or lamps that have stout/squat bases with wide shades will look more natural and more fitting in conversation areas.
Choosing both bulbs and fixtures carefully will accentuate your space. Consider using warmer fixture colors, which will of course make the whole space feel warmer and more inviting. If fluorescent lamps are used, find the lamp with the highest CRI (Color Rendering Index). This will give the room the most natural feel.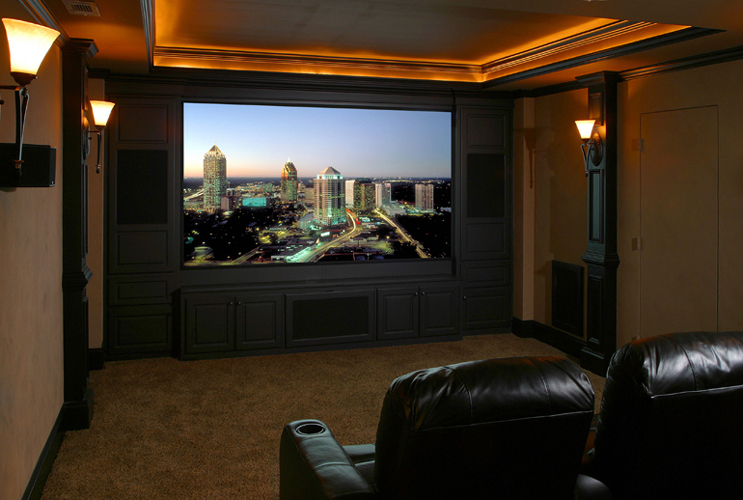 Basement Painting
People sometimes ask us to paint the walls white, paint the ceiling white and put in lots of fluorescent lighting. Our designers want to mention that doing so makes it really bright, but it also makes it really unpleasant. The key with a basement is really warming up the space to make it an inviting environment.
No matter what function the room will serve, going with colors on the warm end of the spectrum is a good choice. No matter if it's a home theater or a children's play area, starting with a warm color will really make the space much more livable, noting that colors like a light caramel or a warm ivory can soften the glare from all the lighting without making the room feel enclosed while yellows might tend to look dingy.
Because basements are often huge, undefined spaces, using paint to delineate areas of the room can make the room more livable by making different sections serve clear purposes. We try to use paint to visually section off different areas of play. Creating activity spaces for the kids can make it more fun for them, and it can also help keep the room more organized.
Incorporating Details of your Home into the Basement
We don't forget the details when we are finishing your new basement space. Because of the sub-level nature of the room, people often neglect finishes they would put in other areas of the house. KraftMaster Renovations tries to incorporate architectural details just like we would in the rest of the house, crown molding, substantial baseboards, wainscoting and beadboard ceilings all go a long way toward eliminating the basement feeling of living in a sub standard space.
If you have a question about a remodeling project, please call our office at: (908) 517-5581 email us at: This email address is being protected from spambots. You need JavaScript enabled to view it. or simply fill out an online estimate form for a free in-home consultation.