Why Choose KraftMaster Renovations ?
Bob's expertise and skills have been recognized nationally, recently his company was awarded;
Remodeling magazine's "Entrepreneur of the Year"
Qualified Remodelers magazine's "Top 500" Remodelers
Remodeling magazine's "Big 50" one of the nations best remodeling contractors.
Houzz's "Best of Design" and "Best of Service" for 2014 - 2019
NARI's COTY Award (Contractor of the year for multiple years)

These prestigious awards are undeniable recognition of his teams focus on great design, modern functionality and, most importantly, clients' use of their homes and spaces.
INSPIRATION
Whether you've been inspired by a recent trip to Tuscany, a picture in a magazine or just the idea of a new, well-designed space, most of our clients come to us with a passionate appreciation for good design. And while they may not know how to achieve what they want, or even know what it is about that piece of art that intrigues them, they come to us to create that feeling in their home. A space that is uniquely theirs - a reflection of what inspires them.
CONSULTATION
Our design process begins with you. We'll set up an appointment for you to meet with a member of our design staff so they can learn more about your goals for the project and how you'd like to use the completed space. After all, it's only a great kitchen for you if it fits your lifestyle and meets your needs. During your consultation we will determine your needs and come up with a rough budget for your project. If, at the end of your consultation, you feel confident that we are the right people to help you achieve your design goals, we will need a project retainer to move to the design phase, this is not a separate fee it gets applied to the remodeling project
DESIGN
We believe that good design doesn't just happen. It's the product of years of training, good listening, an active imagination and exhaustive attention to detail. You'll come to appreciate all of these attributes in our talented award winning design staff. Whether you're remodeling your current home or building one from the ground up, they will conceive a well planned space that is both functional and beautiful. To create the overall aesthetic you desire, we will recommend shapes, finishes, color and textures and bring your project to life with a series of diagrams, layouts and renderings to help you visualize the space. To enhance our chosen design, we can incorporate appliances, counter top materials, tile, flooring, plumbing fixtures and lighting for your project. And while the possibilities are endless, only one combination is just right for you.
CONSTRUCTION & BUILD
With our final design approved, our staff works to create construction drawings, lighting plans, tile diagrams and many more specification drawings that detail our vision for the skilled trades we employ. We will store all of the many components for your project on site in our climate-controlled warehouse. Our skilled installation team is assembled, prepared and ready for our previously arranged start date. If you are remodeling, KraftMaster is a registered and insured contractor in New Jersey and can handle the entire job for you. We will provide you with a detailed calendar of events. If you are building a home, we will coordinate the installation date with your builder and are ready for the project to commence when they need us. While all lengthy projects require patience, we minimize your inconvenience and treat your home as if it were our own.
REMODELING
Remodeling an addition, great room, kitchen or bathroom takes vision, a plan and meticulous attention to detail.
At KraftMaster we specialize in design and cabinetry and have years of experience remodeling homes all throughout NJ.
Our talented remodeling designers create beautiful designs to suit your personal style and lifestyle. We are equally versed in designing within an existing footprint, taking in surrounding areas or adding new space and we can help you decide which option is your wisest investment.
We don't stop at design. We offer a wide variety of cabinetry our most popular lines being Starmark Cabinetry and Europia. We help you select and obtain fixtures, appliances, tile and paint. KraftMaster is a registered contractor in New Jersey, we handle the project in every stage of transformation. Your renovation, addition, or remodeling project will be planned and managed by our team and each phase of construction according to a detailed schedule on our project management platform CoConstruct.
PROJECT COMPLETION
When the last nail has been driven and all of the workers have left your home, We work together compiling a punch list so that no detail is left unattended. We warranty our work and are proud that so many of our clients have referred us to their family and friends.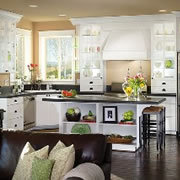 If you are looking for a detail oriented professional design build team for your New Jersey home, then please
call us today at 908-517-5581 or complete our online request form.