Madison, NJ, Kitchen and Bathroom Renovations
The bathroom and kitchen are the most important rooms in your home. They should be welcoming and comfortable- whether you are unwinding from your day, working from home or hosting company. The process of renovation should be educational and fun.
KraftMaster Renovations is a local Madison company. We have received the 2014 Big50 Award for integrity and workmanship from Remodeling Magazine. Take some time to look through our website and read customer reviews. Feel free to contact us with questions or comments about your bathroom or kitchen design project.
Kitchen Remodeling in Madison, NJ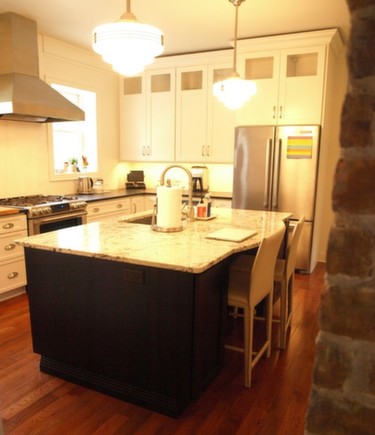 It is exciting to watch your new Kitchen renovations take shape as your old room undergoes a metamorphosis into a new space that displays your sense of style. There are a lot of choices and options, but the process can be fun. Here are a few things to keep in mind for your kitchen design.
Considering the Cabinets – Possibly the most important part of kitchen design revolves around Kitchen cabinetry and storage space. Try to incorporate at least ten linear feet of cabinets in your kitchen. To make those corners work for you, think about a lazy Susan.
Extra Appliances – A few extra appliances like a small wine refrigerator or second oven can allow your family to prepare snacks while staying out of each other's way. These are options that will definitely increase your kitchen's utility.
Knife Storage – Knives are dangerous. When storing blades, make sure you have a designated knife drawer or clearly labeled block. This will not only keep knives out of the reach of kids, but will help you always grab just the knife you need.
Bathroom Renovations in Madison, NJ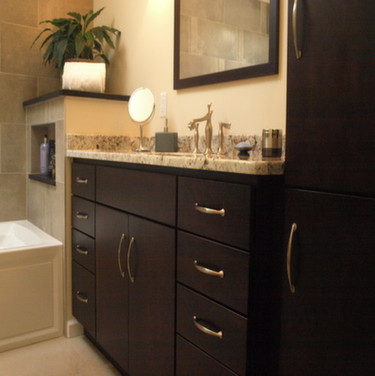 Bathroom remodeling is every bit as popular as kitchen work. A new bathroom can add to your home's market value and make your home feel more welcoming. Here are some tricks and tips for an ideal bathroom design.
Fancy Up the Mirror – A plain, unadorned mirror detracts from the room's overall impression. To add style to the room, try adding decorative molding or a frame around your mirror.
Neutral Colors – White or cream-colored walls and fixtures never go out of style. Avoid garish or unusual colors, and keep to earth tones that give a stylish and natural look. Swapping out the toilet seat, bath mat and shower curtain is an easy way to add color and pizazz.
Commode Decisions – The sheer array of features on toilets these days are amazing. Pick things that suit your room design and do not go overboard. Keep it simple and go with something robust that will last a long time. Never go with the cheapest option, but avoid those with loud flushes or that are hard to clean.
Qualified Madison, NJ, Contractors
Kraftmaster Renovations always delivers top-quality integrity and workmanship. Our contractors are experts when it comes to plumbing and electrical issues and can work within your budget for ideal results. Give us a call today to start your dream remodeling project.