Montclair, NJ, Kitchen and Bathroom Renovations
KraftMaster Renovations is a local Montclair company, and we understand the importance of your bathroom and kitchen. When you are working from home, unwinding from a tough day, or going through your morning routine, these rooms are a major part of your day. Kitchen and bathroom remodeling is a fun and exciting process.
KraftMaster has received the 2014 Big50 Award from Remodeling Magazine for craftsmanship. Please look through our website and contact us today to kick off your new bathroom or kitchen design.
Kitchen Remodeling in Montclair, NJ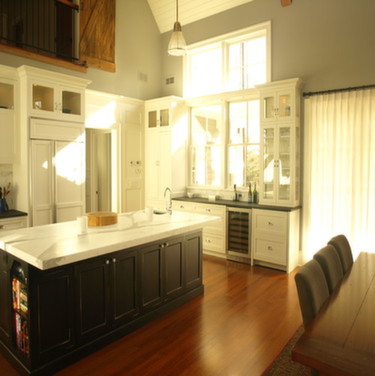 It is exciting to watch as your Kitchen renovations transform your old room into a stylish new space that displays your sense of taste and aesthetics. The process is full of fun and exciting choices to make. Here are a few things to keep in mind as you begin your new kitchen project.
Design a Theme – Counter space and Kitchen cabinetry are the centerpieces of your kitchen. These are the perfect places to start when planning your kitchen design. Pick a theme and build around it. Granite or natural stone countertops, a charging station for gadgets, or a fancy cooktop can speak to the theme of your new kitchen.
Placing the Sink – The best place for your sink is between the refrigerator and cooking area, where it serves as a buffer between the two. It also serves both appliances and is the most often used part of the kitchen. Installing a pot-filler that swings out from the sink can be convenient and save time.
Island Design – When designing your theme, think about an islands or peninsula. These are great for adding extra counter space or room for entertaining. Design your island around your theme. For a cooking space install storage for pots, pans and utensils. For entertaining have seating and plenty of leg room.
Bathroom Renovations in Montclair, NJ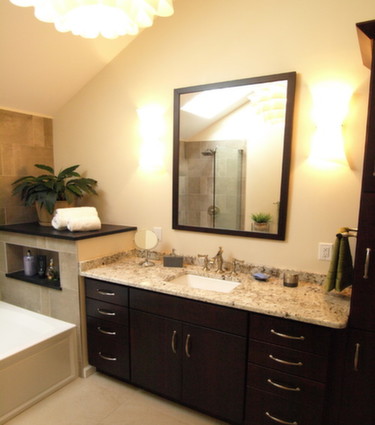 Bathroom remodeling can be as exciting as kitchen renovations. A bathroom remodel will improve your home, not only in market value but in aesthetics and that warm, welcoming feeling. Here are some ideas for your new bathroom design.
Showers and Tubs – Why go boring with your tub? To add a sense of class or the exotic install a corner tub, ofuro tub or antique-looking pedestal tub. There are many options to choose from, including soaker or jetted tubs.
Fan and Ventilation – Mold and mildew are serious and very common bathroom problems. Make sure air flow and ventilation are accounted for to avoid these issues. Modern fans are subtle and quiet and can minimize the risk of moisture issues in your new room.
Make it Bigger – Because of where the bathroom is located, many people are not able to knock out walls to increase the room's size. You can make it look larger if you use the right color and lighting scheme. White or cream color palettes and additional lighting can open up the room.
Qualified Montclair, NJ, Contractors
Kraftmaster Renovations always delivers expertise, integrity and craftsmanship. We can handle even the toughest issues with electrical systems and plumbing, and always deliver the best work whatever your budget. Why wait on your new remodel? Give us a call today!