Florham Park, NJ, Kitchen and Bathroom Remodeling
Your bathroom and kitchen are critical to getting your day off to the right start. KraftMaster Renovations realizes that these two rooms are the heart and soul of your home, and we believe that bathroom and kitchen design should be a fun and educational process.
Local Florham Park company KraftMaster Renovations are experts on bath and kitchen renovations- we have received Remodeling Magazine's 2014 Big50 Award for craftsmanship and design. Look over our website and read a few customer reviews, then give us a call to create your ideal kitchen and bathroom.
Florham Park, NJ Kitchen Remodeling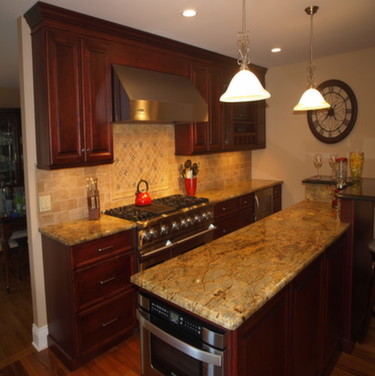 Kitchen renovations can not only be a point of conversation among your visitors, but can actually increase the overall market value of your home. Whether your revamp is for work, entertaining, or just enjoying a morning cup of coffee, here are a few things to keep in mind when beginning your kitchen design.
Reduce Clutter – Maintaining economy of space is important to a kitchen remodel. Pots and pans should be within reach of the cooktop, for example. Design counter space around a purpose, whether it is work, entertainment or relaxation. Be sure that your Kitchen cabinetry has the storage you need to keep clutter out of sight.
Design around a Centerpiece – Decide on the focus of your room early in the design process, then build around it. An island or decorative backsplash can be good focal points for determining the style and feel of your kitchen. Choosing a single focal point for the room to establish a striking design.
Lighting – Choose natural lighting whenever possible to make your room seem larger and more open. To enhance this appearance, choose bright colors and use proper accent lighting under cabinets and over counters. Avoid dark colors, as these make the room seem more closed off.
Florham Park, NJ, Bathroom Renovations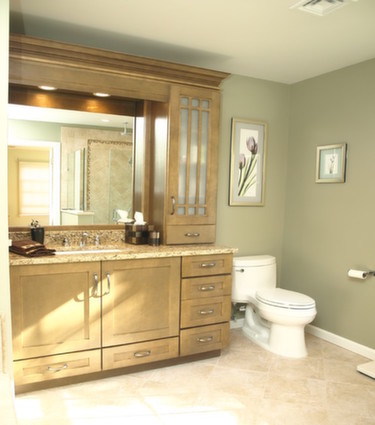 The bathroom is arguably the most popular room for a new remodel. Since it is smaller than the kitchen, it tends to be less expensive to tackle, and still looks great and improves your home's value. Here are some basic tips to keep in mind when approaching your Florham Park bathroom remodeling.
Consider the Environment – Going green is all the rage these days, and for good reason. Not only are green products great for the environment, they tend to be very efficient and offer both form and function for your money.
A Fresh Coat of Paint – The first step in your bathroom design might be a fresh coat of paint. Colors can change the focus and feel of a room, allowing for more ideas when it comes to new fixtures or tile.
Know Your Limits – Wanting to tackle your remodeling project on your own is natural and commendable. It is important to understand the limits of your abilities. Bathroom remodels require dealing with plumbing, tile and electrical work, which a professional will likely be better qualified to handle.
Florham Park, NJ, Contractors
KraftMaster Renovations has a history of expert design and great customer service. We know exactly how to create the room you want, for the price you need. When the time comes to start your Florham Park, NJ remodeling project, Give us a call to make that dream come true.