Chester, NJ, Kitchen and Bathroom Remodeling
Your kitchen and bathroom are vital to your home, whether it is for getting ready for your work day, relaxing on weekends, or entertaining guests. KraftMaster Renovations is a local Chester, NJ, company, and we understand that bathroom and kitchen renovations should be exciting and educational.
KraftMaster Renovations will deliver quality craftsmanship with integrity and style. We have been awarded the 2014 Big50 Award for quality work from Remodeling Magazine. Browse our website and testimonials, and contact us for your perfect bathroom and kitchen design project.
Kitchen Remodeling in Chester, NJ
Your kitchen is the room where you prepare meals, enjoy breakfast, and entertain guests. The right Kitchen renovations can not only deliver a stunning home centerpiece, but can actually increase your home's market value, if you take the right approach.
Cabinetry and Counters – Updated Kitchen cabinetry and counter space are key to kitchen renovation. Be sure you have plenty of space for storage, food preparation and work. Choose options like glass doors and display shelving to give an open footprint that makes the room look spacious and large. Granite and natural stone countertops, and decorative backsplashes are a great idea for a classic and sturdy design.
Communications – Installing a permanent message center where you have a whiteboard, calendar, and areas for notes is a great idea not only for keeping the family up to date with appointments, but for having a space to post notes to yourself while you ae cooking.
Accessibility – Even if you do not have family members or friends with disabilities, building accessibility options into your kitchen remodeling can greatly increase your home's market value. In addition, accessibility options can be practical for keeping utensils, appliances and snack foods within easy reach.
Chester, NJ Bathroom Remodeling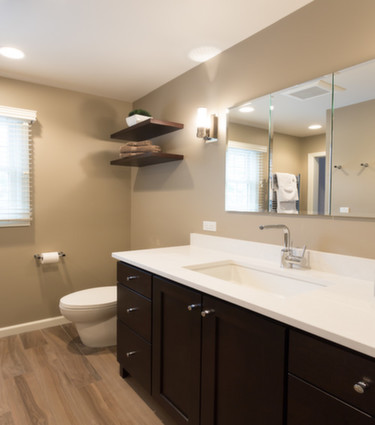 Bathroom design may even be more popular than a kitchen facelift. Bathrooms are smaller and the redesign can cost less than kitchen, while still upgrading your home's look and value. Here are some tips for approaching your Chester bathroom renovations.
Freestanding Centerpiece – If you have the space, including a chair, plants or a freestanding cabinet in your bathroom can really make the overall design stand out. To make the most of your design, make sure that your freestanding piece is practical and functional as well as attractive.
Wall Hooks – An important but often-overlooked design element for bathroom remodels is the incorporation of plenty of wall hooks and racks. Having space to hang towels, mirrors and bathrobes can actually increase usable space without cramping the room's footprint.
Toilet Placement – Most experts recommend placing the toilet several feet away from the door, and at a 90-degree angle to the entryway. Avoid placing your toilet facing the door; the wrong toilet placement can damage an otherwise high-value remodeling job.
Qualified Chester, NJ, Contractors
KraftMaster Renovations offers high quality craftsmanship and expert service for your kitchen and bathroom renovation. No matter your budget, you can count on us to deliver the service you need and the results of your dreams. give us a call today to start your bathroom or kitchen remodeling project.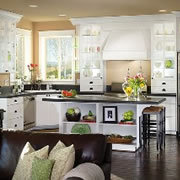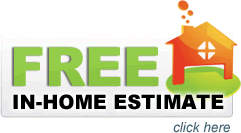 {map lat='40.784289° N'|lon='-74.696644'}