New Jersey Bathroom Design & Renovations Company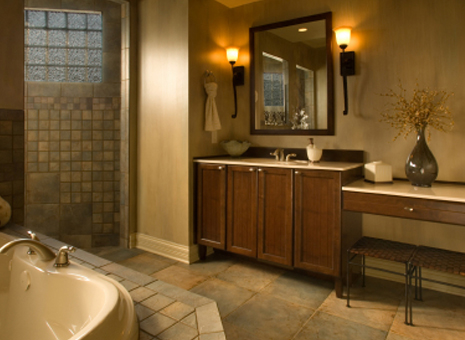 BATHROOM DESIGNS FOR EVERY LIFESTYLE…
KraftMaster Bathroom Remodeling is dedicated to top quality NJ residential bathroom remodeling.
Serving the entire Morris County, New Jersey metropolitan area, KraftMaster Bathroom Remodeling strives to exceed the highest construction-related expectations of today's NJ residential homeowners. We are committed to excellence in craftsmanship and place high importance upon communication with every client. Your vision with regards to the final bathroom construction is of paramount importance to us. We genuinely want everything to be perfect for you and your family. We will make sure that every detail is per the exact specifications that are discussed with you.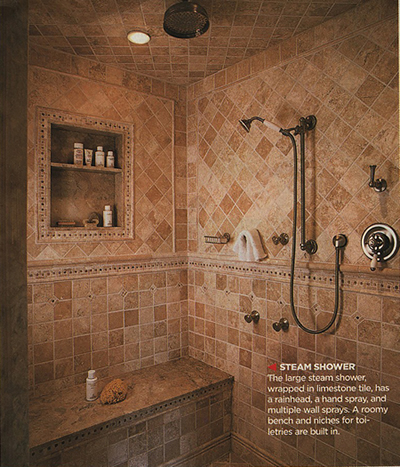 The KraftMaster Bathroom Remodeling design team will hand pick every component of your dream bathroom with you, piece by piece. We want you to be happy with every detail and will supply you with a formidable selection of bathroom options to choose from.
Bathroom remodeling is one of America's most popular major home improvements. Everyone loves a beautiful bathroom, big or small. Not only does a new bathroom remodel enhance the beauty of your home, it also enhances your lifestyle. A fresh new look with custom finishes and personal touches will brighten your home life and increase the overall value of your property. A fresh new look with custom finishes and personal touches will brighten your home life and increase the overall value of your property If you find high quality discount flooring, it can add a great detail to your bathroom remodeling.
Whether you love Classic, Retro or Modern bathroom styles, KraftMaster Bathroom Remodeling will provide you with a wide selection of bathroom elements to choose from. Using only top quality products with the best warranties, we will custom configure your bathroom and employ expert fixture and plumbing installation methods. The KraftMaster Bathroom Remodeling Crew will bring your bathroom into the 21st Century!
Our crew can strip and tear down your old bathroom, then rebuild it integrating new cabinets and countertops, sinks and fixtures/hardware, flooring and tile, tubs and showers, and new lighting concepts- all using your existing layout. Bathroom cabinets and countertops should be beautiful yet resilient and easy to care for. Countertops can be made of granite, marble, other solid surfaces or laminates. Cabinet options for your new bathroom may include cabinet types: Vanity, Sink, Towel, Wall, Base, Medicine, Linen, Storage, Floor or Corner styles. Bathroom sinks should be highly durable yet communicate tour particular home decor.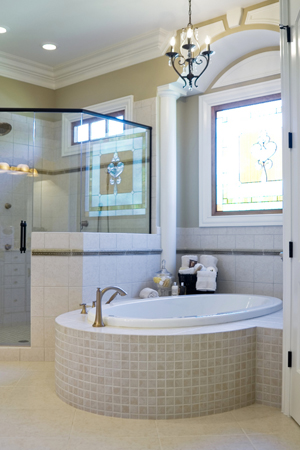 With more than just a shiny white sink to choose from, you may select a pedestal sink, console table sink, vanity, vessel or even wall mounted sinks with high style. Bathroom flooring and tile will certainly compliment the overall look and flow while integrating durability. Most people notice a beautiful tile floor as it shines and sparkles so perfectly. You can completely customize your flooring and tile design with ceramic, mosaic, stone, concrete, linoleum or laminate and vinyl tile- or even with rich hardwood flooring. Finally, who doesn't enjoy an invigorating shower or a relaxing bath? KraftMaster Bathroom Remodeling will provide you with a wide array of bathroom shower stall options, thick glass shower enclosures, tile bench seating options, multi-head cascading shower solutions, whirlpool and infinity/overflow style tubs, claw foot free standing bathtubs, even copper bathtubs.
Whatever your taste or decorating style, KraftMaster Bathroom Remodeling has the right solution for you. Whether you are looking for soft and romantic or bold and striking, or somewhere in between, we will deliver solid construction, variety of options and high quality finishes.
We know that there are many companies out there to choose from when it comes to bathroom remodeling. KraftMaster Bathroom Remodeling appreciates the opportunity to build you the perfect bathroom, according to your exact specifications, at the very best price.
We look forward to the opportunity to beautify your home and make your dream a reality!
If you have a question about a remodeling project, please call our office at: (908) 517-5581 email us at: This email address is being protected from spambots. You need JavaScript enabled to view it. or simply fill out an online estimate form for a free in-home consultation.