Millburn, NJ, Kitchen and Bathroom Renovations
A local Millburn company, KraftMaster Renovations, knows how important the bathroom and kitchen are to your home. These rooms should be warm and welcoming when you are unwinding and relaxing, going through your morning routine, or having guests. Remodeling these rooms should be rewarding and exciting.
We have received the 2014 Big50 Award from Remodeling Magazine due to our top-notch craftsmanship and excellent customer service. Feel free to look at our website and testimonials, and then contact us to get started on your new bathroom or kitchen design.
Kitchen Remodeling in Millburn, NJ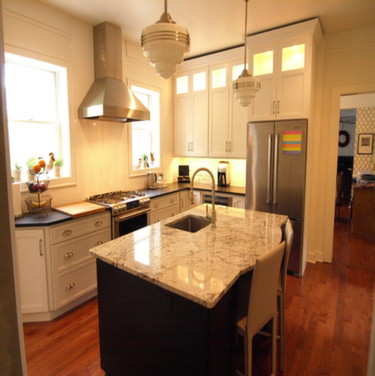 Watching your new Kitchen renovations take shape is thrilling. Your old room goes from worn and familiar to a new space full of your chosen style. The choices and options can be intimidating, but the process can be exciting. Here are a few things to consider for your kitchen design.
Plan out the Cabinets – Possibly the most important part of kitchen design revolves around Kitchen cabinetry and storage space. Try to incorporate at least ten linear feet of cabinets in your kitchen. To make those corners work for you, think about a spinning cabinet to avoid wasted space.
Sink Placement – The sink is the most often used appliance in the kitchen. The best place for it is right between the refrigerator and cooking area, where it serves as a buffer between the two. Consider a swing-out pot filler for convenience in cooking.
An Island of Style – Islands or peninsulas are an excellent point of focus for your new room. They are also great for adding extra counter room. Remember your design and stick to a theme. Is the island a cooking space? Have storage for pots, pans and utensils nearby. Will it be a work area? Try a message center, computer dock or desk organizer.
Bathroom Renovations in Millburn, NJ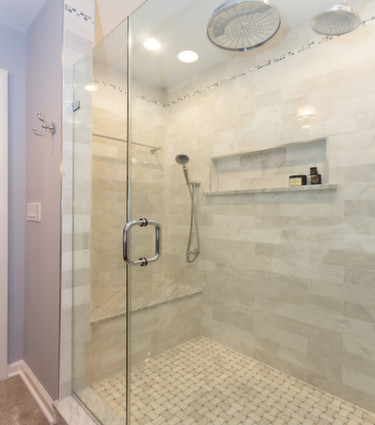 Bathroom remodeling is every bit as exciting as is renovating the kitchen. A remodeled bathroom will make your home feel new, warm, and will increase its market value. Here are some things to consider for your new bathroom design.
Showers and Tubs – Make your tub exciting and exotic. Corner tubs, Asian-themed ofuro tubs and pedestal tubs can bring a sense of class and panache to your new room.
Fan and Ventilation – Make sure your new bathroom has enough air flow and ventilation to avoid problems with mold and mildew. The right fan will be subtle and quiet and can make sure these risks do not turn into serious problems.
Make it Bigger – Depending on the layout of your home, you may not be able to physically increase the size of your room. Color and lighting can make your new bathroom look larger. Stick to white or cream, and add additional lighting to really open up the room.
Qualified Millburn, NJ, Contractors
Kraftmaster Renovations has a reputation for expertise, integrity and craftsmanship. We are capable of dealing with even the toughest issues with plumbing and electrical systems, and will deliver top-notch work right on your budget. There is no time like the present; Give us a call today.