New Vernon, NJ, Kitchen and Bathroom Remodeling
Maybe you want to freshen up your morning routine, or a stunning conversation piece for visitors. It might be time for a new bathroom and kitchen full of your unique sense of style. KraftMaster Renovations understands kitchen and bathroom renovations; we can make the remodeling process fun, educational and exciting.
Kraftmaster Renovations is a local New Vernon company. Our specialty is bath and kitchen remodeling while delivering the best in quality and integrity. Because of this, we have been granted Remodeling Magazine's 2014 Big50 Award for service. We hope you will take some time to read our website and review some testimonials, then give us a call to get started on your new kitchen and bathroom design.
New Vernon, NJ Kitchen Remodeling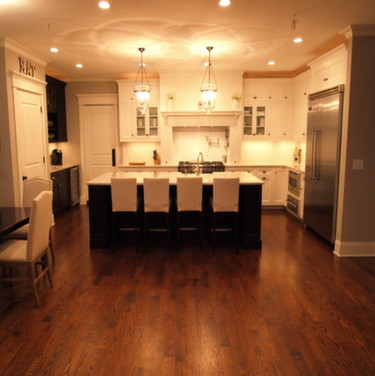 Kitchen renovations can turn a basic food preparation room into the soul of your home, where people will spend more time than any other area. Getting started on your dream kitchen design just takes creativity and determination.
Avoid Blocks of Cabinets – When your Kitchen cabinetry takes up too much unbroken wall space in the kitchen, the room looks small and cramped. You will need counter space and storage for preparing meals, hosting guests and enjoying your coffee. Splitting up cabinets can really open up the room. Try hanging some artwork or open shelving between blocks of cabinets to add fun and style.
Be Bold – When you know your color scheme, be bold with the accents. Look for brightly-colored natural stone, decorative ceramic or glass tile for countertops and flooring. Consider a mosaic with your chosen colors as a decorative backsplash for a stunning look.
Watch the Wires and Rims – Avoid wire shelves, rims and glossy finishes. These are hard to clean and maintain. Try using glass shelves, smooth surfaces and matte finishes. This will reduce cleaning time and increase your relaxation time.
Bathroom Renovation in New Vernon, NJ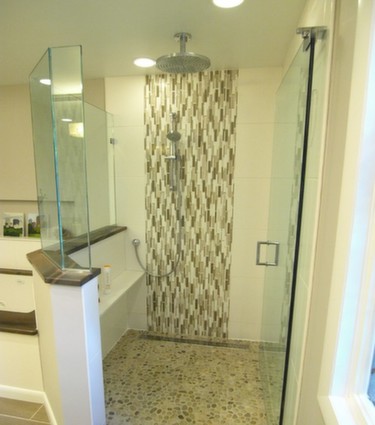 Bathrooms are often more popular rooms for remodeling than kitchens. Your New Vernon bathroom renovations can be off and running with some thought and creative choices.
Stripes – Instead of the traditional offset square tile patterns, you may want to think about trying a pattern of horizontal stripes. This can make your bathroom look much larger and provides a great view line.
Hide the Medicine Cabinets – While you think about decorating your mirrors with fancy frames, why not consider using them to hide your medicine cabinet? This will help make your bathroom look unified and clear of extras.
Lighting – Lighting is vital to your bathroom design. You do not want to create deep shadows or a harsh profile. Make sure your lighting is consistent and even; think about installing a dimmer so you can adjust your lights for primping or romance.
Call a Professional New Vernon, NJ, Contractor
A KraftMaster Renovations contractor delivers quality results with experience, expertise and top-notch customer service. It does not matter what your budget is – we can help you create your dream remodel. By all means, drop us a line to make your dream room come true.