Wayne, NJ, Kitchen and Bathroom Renovations
KraftMaster renovations understands how important the bathroom and kitchen are to your house. Whether you are enjoying your morning routine, having friends for dinner, or just relaxing, they should be the showcase of your home. Renovating these rooms should be a fun learning process.
KraftMaster Renovations is located right in Wayne, NJ. Because of our craftsmanship and integrity we have been granted the Big50 Award from Remodeling Magazine in 2014. Please read through our website and customer testimonials. By all means, contact us with any questions or comments regarding your new bathroom or kitchen design project.
Kitchen Remodeling in Wayne, NJ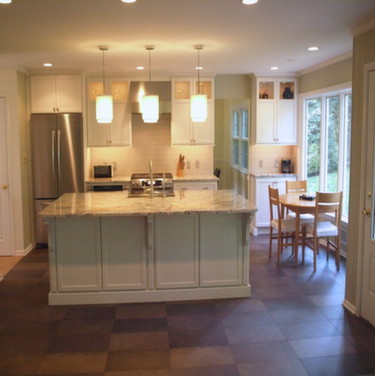 Watching your new Kitchen renovations take shape is as exciting as it is educational. There is nothing like watching a new room grow out of the old, to display your sense of style and taste. There many exciting options available and the process is an educational journey. Here are a few clever ideas for kitchen design.
Cutting Board Storage – Some of the most important choices you will make for your new room involve Kitchen cabinetry and storage. It is always tricky figuring out where to store butcher blocks and cutting boards. Why not build in special slide-out storage for these all-important items?
The Charging Station – More than ever, people are using their kitchen space as a home office. This makes the idea of installing a charging station a no-brainer. Set it up for multiple gadgets so that you can run your phone, tablet and laptop all at the same time.
The Coffee Stand – As you build your kitchen around a theme, do not neglect your morning coffee. Wherever you plan to set up your coffee maker, why not build in a coffee stand to handle your filters, beans, stirrers and sweetener all within easy reach?
Bathroom Renovations in Wayne, NJ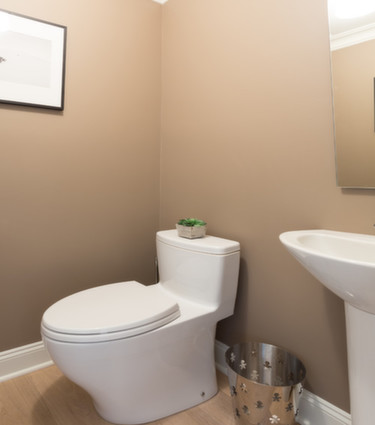 The right bathroom remodeling project is one of the best ways to increase your home's overall market value and give your home a feeling of being brand new. Here are some unique ideas when considering your new bathroom design.
Beneath the Sink – Economy of space can be very important in a smaller bathroom. Try a sink with basin legs, or no legs at all. You can then install shelving on the walls under the sink for storing toiletries, makeup or whatever else may need a home.
A Basic Cupboard – Installing a basic free-standing cupboard can solve many storage issues in your bathroom. You can store towels in the cabinet, medicine and necessities in the drawers.
The Vanity Tray – A vanity tray can be an excellent way to limit your bauble space. This will allow you to add that personal touch without overwhelming the space.
Qualified Wayne, NJ, Contractors
Kraftmaster Renovations are experts in delivering customer service and craftsmanship. Our contractors can step up to handle even the most difficult plumbing and electrical problems, and we will create perfect results right on your budget. Contact us today to begin to bring your dream kitchen or bathroom to life.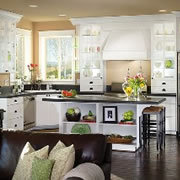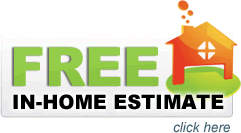 {map lat='40.925147° N'|lon='-74.276798'}