Kitchen design, renovations and remodeling with our design|build award winning full service remodeling company.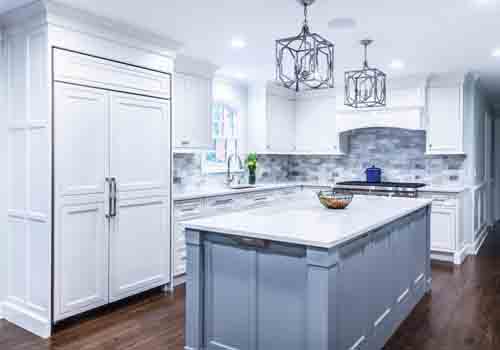 Kitchens can now be made the focal point of the home, bringing the family together at dinner time, or to allow room to entertain close the action at family functions or dinner parties. For cutting edge design coupled with master craftsmanship KraftMaster is the one call to make to turn gourmet kitchen dreams in to a reality.
Thinking about remodeling your kitchen? You've come to the right place. KraftMaster is now offering a better way to improve your kitchen renovation. Our proven process, full-service remodeling approach makes kitchen remodeling much easier and more pleasant for you:
We start by helping you select the best materials available, and then we´ll follow through with thorough, expert installation, while paying strict attention to details.
State of the art kitchens are the hottest trend in home remodeling today.
The layout of your kitchen—where you place your appliances, your countertops, and your storage will determine how cook-friendly your kitchen is.
Ask yourself: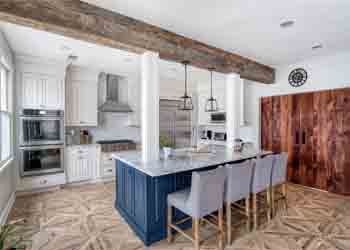 Will I have to walk far to get water to top off a pot on the stove?
Will I have enough space to slice, dice, chop, and otherwise prepare meals?
Will I have room to store the olive oil near the stove or will I have to go across the room to get it?
Will two or more cooks be able to work comfortably in the space without constantly bumping into each other?
Will I be able to easily rinse dishes and load them into the dishwasher?
Do I prefer a range or a separate cooktop and oven?
Do I need a prep sink and a cleanup sink?
Do I need an eating area in the kitchen?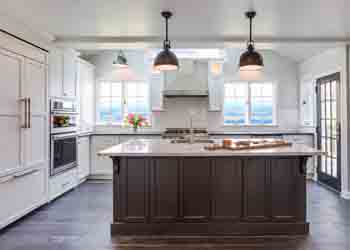 Of course, if you're remodeling, the structure of your existing home may limit your layout options. You'll have considerably more flexibility the larger your space and if you're building a new home or adding on.
Common kitchen plans include the one-wall kitchen, the corridor or galley kitchen, the L or double L kitchen, the U-shaped kitchen and the G-shaped kitchen.These shapes could determine if you will be able to utilize counter height stools against a island or bar, or if a bar stool height is the way you'll have to go.
One factor to consider when planning your budget for a kitchen remodeling project is to consider the layout and cabinet configuration. It will affect the price greatly, for example, a stack of drawers will be higher-priced than a one-drawer/two-doorbase cabinet. A U-shaped kitchen will typically cost more than one that's L-shaped with an island.
When choosing cabinets consider the wood species that will cover the cabinets, door style, the type of finish, as well as the cabinet construction. Choosing the right wood will help to figure a budget on cabinets, as well as your entire kitchen. Cherry is usually about 7 to 10 percent more than oak, hickory and pine. Specialty woods like alder, mahogany, fir, rift-cut woods, redwood, and teak will cost more than common woods like oak or pine. Maple is the most common wood, usually priced somewhere between oak and cherry.
Painted cabinets will run about 10 to 15 percent more than standard stains. Glazes or layered finishes will run about 7 to 15 percent more than a standard stain due to extra labor.
New Trends in Kitchen Cabinets, Countertops, and Flooring for 2019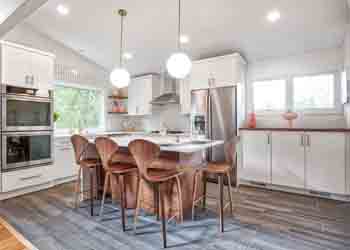 The National Kitchen and Bath Association predicts there will not be drastic changes in terms of customer taste this year. Projects that will dominate in 2019 will use small budgets, greener products, and traditional design. "My sense of trends is that people are looking to do more with less money," says Bob Gockeler, home improvement, designer, and blogger, and talk radio host "They're thinking about inlaying different tiles in order to maximize their bang for the buck rather than going with inlaid marbles. People are building smaller, cheaper, greener, and more thoughtfully." People are looking to express themselves more through their choices than by subscribing to any fad.
Concealed Kitchens that are integrated well with design will be popular. The incorporation of the kitchen into a primary living and entertaining room provides homeowners with far more flexibility in lifestyle. Integrated and concealed appliances allow kitchens to enhance other spaces. Overall compositions of kitchens are being defined by the overall scale of the room to add functionality and visual appeal. Distinctive wall coverings, tin ceilings and textured walls are used to balance the scale of new designs.
Cabinets
WHITE KITCHENS ARE OVER
While there's no denying the timeless appeal of an ultra-bright white kitchen, there are plenty of fantastic alternatives to take in for a more rich and intoxicating look. And it should go without saying that all white kitchens are much harder to keep clean on a daily basis, so why not consider bringing in some distinctive hues to create a more memorable kitchen.
SET A MOODIER TONE
Instead of bright optic white, consider setting a moodier tone in your kitchen with alluring and unexpected color to create a more rich and nuanced look. From night watch, 2019's dark and dramatic green tinged color of the year to earthier terracotta or even more vibrant tones, do consider adding a sense of elevated energy with colors that evoke emotion and a positive spirit
MATTE EVERYTHING
Who doesn't love the slick touch of matte finishes? And lucky for you, we've noticed showrooms chock full of matte cabinetry and appliances that while attractive, are ultimately much easier to keep clean and are certain to not go out of style anytime soon thanks to their forever-cool allure.
DARK KITCHENS
The antithesis to the tendency to go for all-white kitchens, black and moodier hued kitchen design ideas are sure to quickly add an elegant sense of drama to any home, are easier to manage, and are an elegant alternative to standard ivories.
TWO TONE CABINETS
Again with the purposely mismatched kitchen decor trend, consider using two complementary tones for walls and cabinets to surprise the eye with an instantly cool look.
GRID MOTIFS
As the times call for clean, symmetrical straight lines, we're seeing grid motifs used as a lite nod to industrial styling everywhere in contrasting black for windows, doors, and cabinet legs.
THE END OF STAINLESS STEEL
Like any good interior design trend, there's a point where you've seen décor elements all too frequently, everywhere. So bid stainless steel appliances, fixtures, and finishes adieu and go for pieces that are more simple in standard neutral tones or go wild with colorful and patterned elements for the ultimate in conversation starting statements.
BRIGHT STOVES AND HOODS
Though ranges and hoods can be substantial investments, our interior designers continue to opt for finds in surprising shades from cool and calming pastels to primary hues.
EMBRACE HYGGE
In a kitchen, less truly can mean more as the slightest upgrades can add more space for prep time and storage solutions. Stick with the concept of Hygge and be sure that surfaces are clutter-free, and think about alternatives for your upper cabinets from shelves to art – you name it.
UNDERCOUNTER APPLIANCE
As kitchen design ideas of 2019 call for clearing spots above lower cabinetry, opt for under the counter appliances like microwaves and the ilk to keep them out of sight as upper spots become more vacant.
SMART KITCHEN IDEAS
As technological advances continue to enhance our daily lives, it comes as no surprise that the movement finally made its way into our kitchens. From remote light controls to smart screen display fridges, there are plenty of genius updates to take advantage of for the best in kitchen design ideas.
GOLD AND BLACK
Timeless in appeal and sure to add easy elegance to any kitchen, black cabinetry and appliances finished with either gold or copper accents and hardware makes for a grand gesture in any kitchen.
INDUCTION COOKING
Fast, safe, and aesthetically pleasing, induction burners utilize less heat with even the smallest of kitchens keeping cool while cooking while surfaces remain safe to touch. Plus, these smart cooktops eliminate the need for an obtrusive range hood, clearing the way for endless creative design possibilities.
LARGE SINGLE LEVEL ISLANDS
Compared to their multidimensional counterpoints, single level islands don't block light, increase prep space, and create an unobstructed conversation and dining area.
DEEP DRAWERS
By sourcing deeper than average drawers you'll make cooking and storage all the easier especially when they are placed in high traffic cooking areas like next to your range.
BANQUETTE SEATING
Increasingly popular, customized banquette seating is a great way to bring family and friends together in this most commonly used room while giving your kitchen furniture a unique feature that could also increase the value of your home.
KITCHEN ISLAND STORAGE
With storage and function key concerns in any kitchen, take advantage of that space under your kitchen island design and think of clever hacks to make the most use of the space to better serve your needs.
MIXED METALS AND FINISHES
For an off-kilter layered look that's still rich and layered, combine different metals such as copper hardware, brass fixtures, and silver finishes for a more laid back however elegant statement.
RUSTIC AND MODERN
By combining the two design styles you'll easily create a rich and nuanced look in your kitchen that will be unique to your home.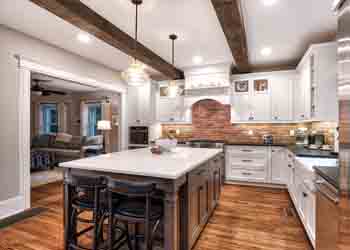 Countertops
Varying height island tops, countertops, and partial walls are being customized to suite the task being performed at each location and to the needs of the homeowner. Pairing lower desk and prep areas with higher breakfast bar surfaces provides convenient task-specific spaces, creating a more livable space in the kitchen.
Though we've seen our fair share of various countertop materials come and go, the popularity of brilliant quartz finishes continues to have no end in sight as it remains one of our client's most frequently requested materials, and for good reason. And besides a great timeless look, quartz is virtually indestructible as it produces a harder surface – just be sure to avoid excessive heat as hot pots can damage the material easily.
NO MORE GRANITE?
A mainstay of the 1990's and early 2000's, we're happy to report that granite continues to dwindle in popularity as it tends to date kitchen decor while making it appear a tad ordinary. Plus granite is super porous and could collect bacteria if not properly taken care of.
WOODEN COUNTERS
Though they require more care and have a shorter lifespan, wooden counters are an effective way to add warmth and character in any kitchen.
STATEMENT STOOLS
We've seen some terrific updates to stool styling to consider from mid-century-modern beauties to Hollywood Regency styles full of personality and everyday glamor.
EYE-CATCHING PENDANT LIGHTS
Make a statement with a conversation starting set of pendant lights as they're perfect for adding ample lighting to wide open spaces.
KITCHEN FAUCETS
Kitchen faucets come in a vast range of styles, colors and materials. They're designed to be both functional and beautiful.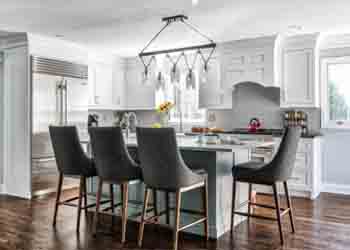 Lets Get Started
No one wants a brand-new kitchen with appliance doors that bump into cabinet doors, or an island so close to the wall that it can't be used for dining. Good space planning will help you develop the best layout for your kitchen, so take the time to read this condensed version of the NKBA guidelines. (The full guidelines are available on the NKBA website).
Designed to maximize safety and functionality in home kitchens, the guidelines represent ideal layout solutions to kitchen concerns from storage space to door clearance. Don't fret if budget limitations and the constraints of an existing kitchen require some compromises and tradeoffs: The only rules you must follow are building codes.
Our kitchen remodeling projects are priced desirably, and include labor, materials and permits. We can supply several written estimates based on different plans, designs and options. A comprehensive kitchen renovation and modernization doesn´t need to cost a small fortune or go beyond the means of most homeowners. We will work closely with you to provide renovations that will work within your budget and please you.
Some of these kitchens have very traditional wood cabinetry and stone and/or wood counters. This is often the first thing people think of when they think "kitchen." It is a classic way to redesign a kitchen and it has a long lifespan. Often if you go with a more traditional look it will stay stylish longer and does not need quite as much done to freshen its look later.
If you have a question about a remodeling project, please call our office at: (908) 517-5581 email us at: This email address is being protected from spambots. You need JavaScript enabled to view it. or simply fill out an online estimate form for a free in-home consultation.