KRAFTMASTER KITCHEN & BATH DESIGN & REMODELING COMPANY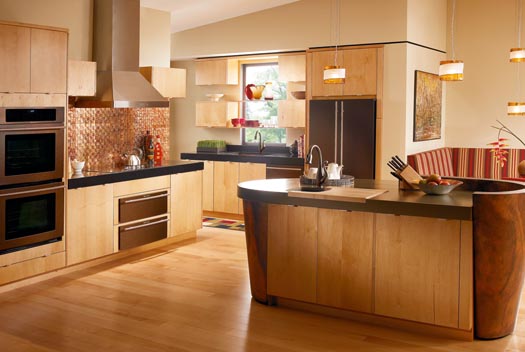 Kitchens can now be made the focal point of the home, bringing the family together at dinner time, or to allow room to entertain close the action at family functions or dinner parties. For cutting edge design coupled with master craftsmanship KraftMaster is the one call to make to turn gourmet kitchen dreams in to a reality.
Thinking about remodeling your kitchen? You've come to the right place. KraftMaster is now offering a better way to improve your kitchen renovation. Our proven process, full-service remodeling approach makes kitchen remodeling much easier and more pleasant for you:
We start by helping you select the best materials available, and then we´ll follow through with thorough, expert installation, while paying strict attention to details.
State of the art kitchens are the hottest trend in home remodeling today.
The layout of your kitchen—where you place your appliances, your countertops, and your storage—will determine how cook-friendly your kitchen is. Ask yourself: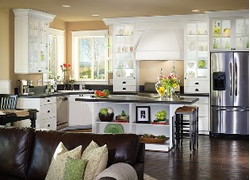 Will I have to walk far to get water to top off a pot on the stove?
Will I have enough space to slice, dice, chop, and otherwise prepare meals?
Will I have room to store the olive oil near the stove or will I have to go across the room to get it?
Will two or more cooks be able to work comfortably in the space without constantly bumping into each other?
Will I be able to easily rinse dishes and load them into the dishwasher?
Do I prefer a range or a separate cooktop and oven?
Do I need a prep sink and a cleanup sink?
Do I need an eating area in the kitchen?
Of course, if you're remodeling, the structure of your existing home will limit your layout options. You'll have considerably more flexibility the larger your space and if you're building a new home or adding on.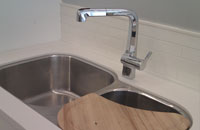 Common kitchen plans include the one-wall kitchen, the corridor or galley kitchen, the L or double L kitchen, the U-shaped kitchen and the G-shaped kitchen.These shapes could determine if you will be able to utilize counter height stools against a island or bar, or if a bar stool height is the way you'll have to go.
One factor to consider when planning your budget for a kitchen remodeling project is to consider the layout and cabinet configuration. It will affect the price greatly, for example, a stack of drawers will be higher-priced than a one-drawer/two-doorbase cabinet. A U-shaped kitchen will typically cost more than one that's L-shaped with an island. A wall oven/cooktop combination range will generally cost about $1,000 more than a freestanding range.
When choosing cabinets consider the wood species that will cover the cabinets, door style, the type of finish, as well as the cabinet construction. Choosing the right wood will help to figure a budget on cabinets, as well as your entire kitchen. Melamine surfaces will be the least costly, cherry is usually about 7 to 10 percent more than oak, hickory and pine. Specialty woods like alder, mahogany, fir, rift-cut woods, redwood, and teak will cost more than common woods like oak or pine. Maple is the most common wood, usually priced somewhere between oak and cherry.
The style of door you decide upon will also have an effect on the price of a kitchen remodel. A door with more details like arches, grooves and molding and the amount of each will have an effect on the cost as well. Different finishes are also a factor to consider because the types of finishes will vary in price.
Painted cabinets will run about 10 to 15 percent more than standard stains. Glazes or layered finishes will run about 7 to 15 percent more than a standard stain due to extra labor.
New Trends in Kitchen Cabinets, Countertops, and Flooring for 2015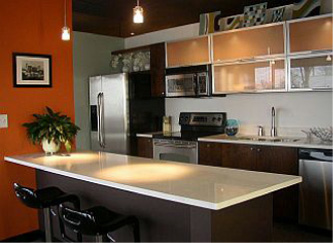 The National Kitchen and Bath Association predicts there will not be drastic changes in terms of customer taste this year. Projects that will dominate in 2015 will use small budgets, greener products, and traditional design. "My sense of trends is that people are looking to do more with less money," says Bob Gockeler, home improvement, designer, and blogger, and talk radio host "They're thinking about inlaying different tiles in order to maximize their bang for the buck rather than going with inlaid marbles. People are building smaller, cheaper, greener, and more thoughtfully." People are looking to express themselves more through their choices than by subscribing to any fad.
Concealed Kitchens that are integrated well with design will be popular. The incorporation of the kitchen into a primary living and entertaining room provides homeowners with far more flexibility in lifestyle. Integrated and concealed appliances allow kitchens to enhance other spaces. Overall compositions of kitchens are being defined by the overall scale of the room to add functionality and visual appeal. Distinctive wall coverings, tin ceilings and textured walls are used to balance the scale of new designs.
Cabinets
"Economical and sustainable kitchens are absolutely key to moving ahead in this world," says Robin Finnegan, interior designer and kitchen and bathroom specialist. Finnegan points to flat-panel doors in Bamboo, Kieri board, or reclaimed lumber that are clear-coated in a semi-gloss low-VOC finish as products that have become popular. "Ply-woods and particle board frames are moving toward formaldehyde-free, and even soy and hemp boards are finding their way to the marketplace. People are asking for them, and the industry is responding."
Countertops
Varying height island tops, countertops, and partial walls are being customized to suite the task being performed at each location and to the needs of the homeowner. Pairing lower desk and prep areas with higher breakfast bar surfaces provides convenient task-specific spaces, creating a more livable space in the kitchen.
According to Freedonia Group's "World Residential Countertops" study, laminate counters will lead demand, but sold surface and natural stone countertops will account for two-fifths of global demand. Nearly 70 percent of sold surface countertops were sold in the Asia/Pacific region, where they are an especially low-cost option, because of limited color options and a competitive local production base. Engineered stone, which is primarily used in the more developed countries such as the U.S. due to its high cost, is expected to achieve the most rapid gains through 2013.
"Clients are leaning toward more renewable, recyclable resources for countertops, such as recycled paper, concrete and stainless steel, which are now running neck in neck with marble and granite," says Steve Lazar of Lazar Homes. He says accenting any kitchen with an enormous "green" butcher block table is still desirable and a nice effective way to break up the kitchen with a different countertop.
Flooring
Christine Jurs, vice president and senior designer of advice design studio, says natural and distressed elements will be a big trend for 2015. "From distressed cabinetry to dark hardwood floors or stone flooring replacing carpet, imperfections are another way to add character to design elements in the home."
Lazar's clients are demanding wood flooring. "As an example, I selected a more rustic distressed floor with an antique patina for our latest residence in Hermosa Beach, which will only look better over time," says Lazar.
Professional Architecture Designers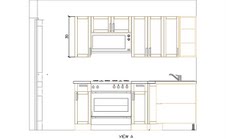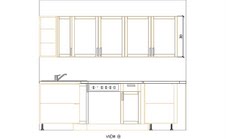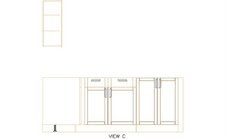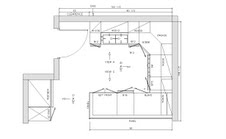 Kitchen Countertops
When you choose your countertop, select a color and texture that compliments your cabinetry, floor or paint selection. Don't be afraid to combine two or more countertop materials in one kitchen. Complimentary colors or textures on adjacent surfaces can create visual interest.
Remember also that it pays to select a material that will withstand years of use without extraordinary maintenance requirements and is easily repairable should an accident occur.
Two of the best options that we offer are:
Granite Countertops
Granite is…well…hard as a rock. Though costly, when buffed to a shine it creates a smashing look for kitchen counters. It is also riding a crest of popular style that began over 10 years ago. With granite tops, the experience and expertise of the fabricator is vitally important.
Marble Countertops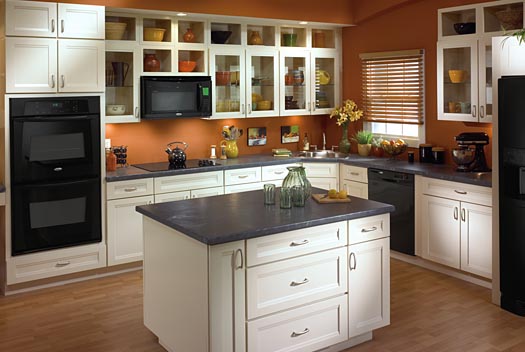 Granite, marble, and limestone, all popular for countertops, are beautiful natural materials. In most areas, you'll find a great selection of colors and figures.
Kitchen Tiles
Tiles form a very important part of the kitchen décor, making or marring it completely. One of their best aspects is that they are available in small sizes, enabling you to create wonderful patterns. At the same time, the variety in colors, sizes and materials of kitchen tiles is almost endless. Apart from being used on the floors, tiles also form a part of the walls, backsplash and even countertops. Not only do kitchen tiles look extremely attractive, but are also stain as well as water-resistant. The only flaw with them is that the grout needs to be cleaned regularly. At the same time, you need to replace them when they get chipped or cracked. Still, using tiles in kitchen is a good option
Kitchen Sinks
Our sinks give your kitchen the kind of performance, efficiency and handsome good looks that cooking pros depend on and enjoy. These task centers are stylish and centralized, using custom accessories to organize your space and reduce steps across the kitchen floor.
Kitchen Faucets
Kitchen faucets come in a vast range of styles, colors and materials. They're designed to be both functional and beautiful.

No one wants a brand-new kitchen with appliance doors that bump into cabinet doors, or an island so close to the wall that it can't be used for dining. Good space planning will help you develop the best layout for your kitchen, so take the time to read this condensed version of the NKBA guidelines. (The full guidelines are available on the NKBA website).
Designed to maximize safety and functionality in home kitchens, the guidelines represent ideal layout solutions to kitchen concerns from storage space to door clearance. Don't fret if budget limitations and the constraints of an existing kitchen require some compromises and tradeoffs: The only rules you must follow are building codes.
Our kitchen remodeling projects are priced desirably, and include labor, materials and permits. We can supply several written estimates based on different plans, designs and options. A comprehensive kitchen renovation and modernization doesn´t need to cost a small fortune or go beyond the means of most homeowners. We will work closely with you to provide renovations that will work within your budget and please you.
Some of these kitchens have very traditional wood cabinetry and stone and/or wood counters. This is often the first thing people think of when they think "kitchen." It is a classic way to redesign a kitchen and it has a long lifespan. Often if you go with a more traditional look it will stay stylish longer and does not need quite as much done to freshen its look later.
If you have a question about a remodeling project, please call our office at: (908) 517-5581 email us at: This email address is being protected from spambots. You need JavaScript enabled to view it. or simply fill out an online estimate form for a free in-home consultation.