West Orange, NJ, Kitchen and Bathroom Renovations
KraftMaster Renovations, a Big50 Award Winner from Remodeling Magazine in 2014, is a local to West Orange company. We understand the importance of craftsmanship and integrity in bathroom and kitchen design, whether you are enjoying a dinner party, reading the paper or enjoying a bath after a long day.
Your kitchen and bathroom are the two most important rooms in your home. Remodeling them should be fun and exciting. Peruse our website and customer testimonials, and contact us with any questions or comments about your dream bathroom or kitchen design project.
Kitchen Remodeling in West Orange, NJ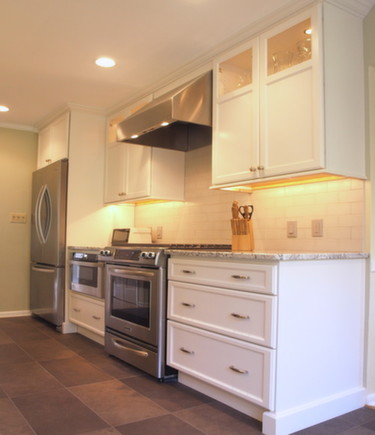 New Kitchen renovations can be one of the most exciting and rewarding home upgrades you can make. A new room can display your sense of style and increase your home's value. There many choices available and the journey is as fun as the destination. Here are a few unique kitchen design ideas.
Antique Cabinets – Give your Kitchen cabinetry a real sense of unique personality. Use an antique armoire or vanity to create unique specialized storage space in your kitchen. A clever contractor will be able to integrate antique pieces into your overall design.
Swivel Stools – Swivel stools are a unique and clever idea for adding seating without taking up extra space in the room. These nifty devices can swing out when you need seating, and then tuck away when you need room to move.
Pop-Up Outlets – Having enough electricity is always a challenge, but in many cases you may not want to spoil your design theme with plugs all over the walls. Adding a few pop-up outlets into your counter tops can neatly solve this problem. You can always have electricity when you need it, and hide the outlets when you are not using them.
Bathroom Renovations in West Orange, NJ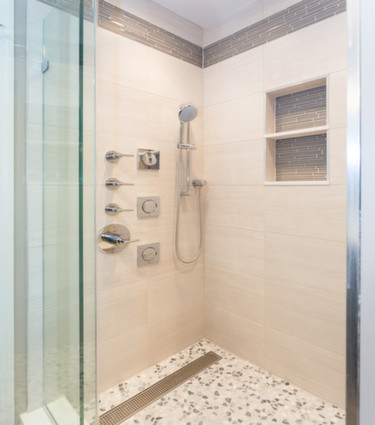 Whether you just want a fresh, new feeling for your home or are looking to increase its value on the real estate market, bathroom remodeling is an amazing first step that can give the results you want. Here are some clever and unique ideas for your new bathroom design.
The Mirrored Wall – In most cases, the bathroom is one of the smaller rooms in the house. It is not always practical to enlarge the actual room. To create an illusion of extra space, add a mirrored wall. This can make the room look twice as large as its actual size.
The Sink Cabinet – While pedestal and basin sinks are great for adding floor space to your bathroom, a traditional sink with a built-in cabinet below, combined with a medicine cabinet above, can often provide plenty of storage space for your needs.
Economy Size – If you have a small bathroom, look into appliances that are smaller in size. As an added benefit, many of these smaller fixtures are often of the high efficiency variety.
Qualified West Orange, NJ, Contractors
Kraftmaster Renovations delivers service with experience, expertise and integrity. Regardless of your budget, we can face any problems may crop up, and deliver the results about which you dream. Contact us today to begin making your dreams of a home upgrade come true.