Bernardsville, NJ, Kitchen and Bath Remodeling
The kitchen and bathroom are two of the most important rooms in the home. KraftMaster Renovations knows how important it is for these two rooms to be comfortable and attractive. After all, you potentially spend more time in these rooms than anywhere else in your home.
A local Bernardsville Company, KraftMaster Renovations focuses on bath and kitchen remodeling and has been awarded the Big50 Award in 2014 from Remodeling Magazine due to our workmanship and integrity. Feel free to browse our customer testimonials and services. Contact us for help with your dream kitchen and bathroom.
Bernardsville, NJ Kitchen Remodeling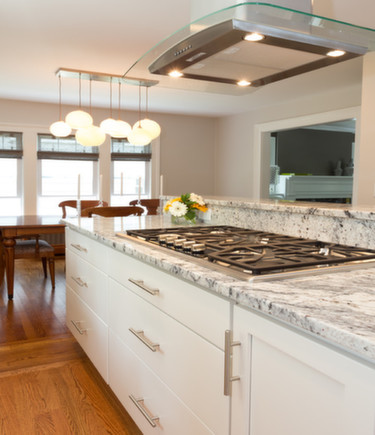 Remodeling your kitchen is important to display your home's personality and increase its market value. Here are a few tips for the perfect kitchen remodel.
Maximize Your Space - When considering your kitchen design project, it's not only important to ensure you have enough counter space but that your counter and kitchen cabinetry space is maximized for efficiency. If you've got a breakfast nook, keep the cereal bowls, mugs and coffee maker nearby, for example.
Maximizing space will increase comfort and lend a good energy to the room.
Quality Materials - Invest in quality building materials like natural stone tile for your kitchen renovations. These will last a long time, resist damage and are attractive as well. Budget is important but this is one area on which you do not want to skimp. The higher quality materials you use, the more value and impact your renovation will add.
Walkways – Make sure there is adequate space for moving about the room. This aspect can not only make the room feel more spacious and comfortable, it adds value through accessibility.
These basic tips are just a few things to keep in mind when renovating your Bernardsville kitchen.
Bernardsville, NJ Bathroom Remodeling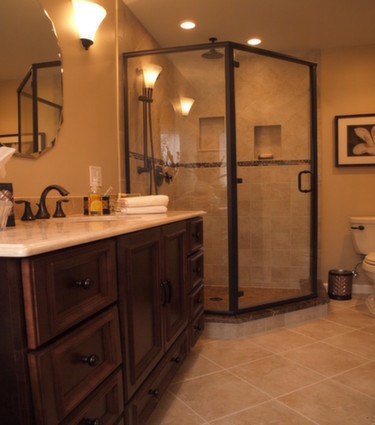 Bathroom remodeling is one of the most common dream upgrades for homeowners. But where do you start? Having a solid plan is vital for your Bernardsville bathroom dream renovation.
Budget – Knowing what you have to spend will make sure that you choose options that will not put you in debt. This will definitely have an effect on which options you choose for your Bernardsville bathroom design. Be accurate and honest when determining what you can spend, and make sure you stick to it.
Go Green – If you can afford it, look at environmentally-friendly, green options for your bathroom renovations. These tend to be more efficient in addition to reducing your carbon footprint. They will be attractive and increase the value of your home as the years go by.
Lighting Impact – Consider your lighting options carefully. Avoid harsh, bright overhead lighting and stick to source lighting at multiple levels, with softer hues. This will be easier on the eyes and give you a better view in the mirror.
Qualified Bernardsville, NJ, Contractors
A professional consultation is helpful when planning your kitchen and bathroom upgrade. Professionals can save you a lot of headaches and money when it comes to dealing with electrical and plumbing work, as well as installing new flooring, appliances and the like. Feel free to contact us to make your dream renovation a reality.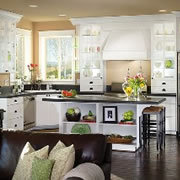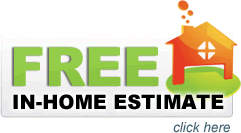 {map lat='40.719063° N'|lon='-74.567913'}