Boonton, NJ, Kitchen and Bath Remodeling
KraftMaster Renovations understands the importance of kitchen and bathroom remodeling. These two rooms have to be attractive, welcoming and comfortable for you and visitors to your home. They show your comfort and style whether it is for work, relaxation or entertaining guests.
KraftMaster Renovations is a local Boonton company focused on bath and kitchen remodeling. We have been given the Big50 Award in 2014 from Remodeling Magazine in recognition of our customer service, integrity, and craftsmanship. Take some time to look through our customer testimonials and services. If you are looking for help with your dream kitchen or bathroom renovation, Contact us for help.
Boonton, NJ Kitchen Remodeling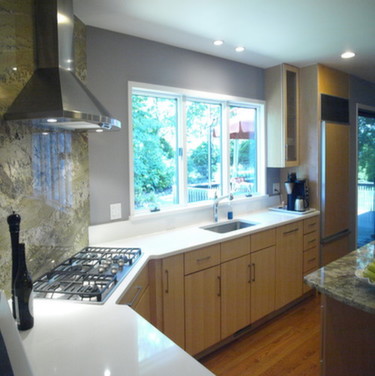 Kitchen design is an important part of your home's personality and can increase its market value. The kitchen is the heart of the home, and following a few tips can set you on the road to an ideal kitchen remodel.
Efficiency in Arrangement – As you approach your kitchen design, consider where you place your kitchen cabinetry, appliances, shelving and countertops. Be sure that you can easily access the most important items and appliances without having to reach too high or bend too low. This will help to maximize the comfort of your kitchen.
The Island - Islands are a popular upgrade option. You will want to consider carefully what function the island will serve, and design it to suit that function. Will it be for sitting and eating? Will it contain your cooktop or a sink? Will it be a place to prepare food? These questions will be important in determining the options you want in your island.
Countertops – Be sure that you have enough counter space on either side of your sink, microwave and cooktop to use as a "landing space" for dishes, pots, pans and the like. Consider two different levels of countertop to fill different functions when standing or sitting.
It is a good idea to plan for function while you are thinking about your Boonton kitchen remodeling project.
Boonton, NJ Bathroom Renovation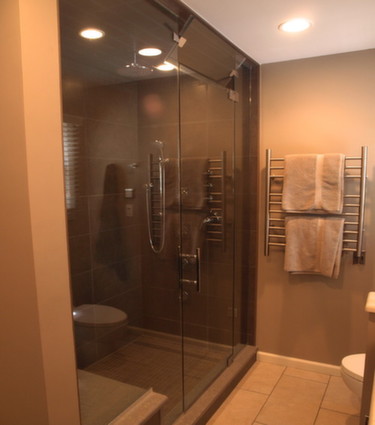 Many homeowners are intimidated when approaching a bathroom remodeling project, but if you have a plan for your Boonton bathroom, the project can be fun and exciting.
Budget – Staying on budget for your Boonton bathroom design is vital to keeping you from getting too far in debt and in choosing the right options for your upgrades. A good bathroom remodel will add a lot of value to your home and improve its aesthetics, but going too far into debt is not something anyone wants.
Hardware Upgrades – When it comes to bathroom renovations, just changing out your hardware can be a great start and create a huge impact. A new showerhead, replacement faucet handles, and medicine cabinet or drawer hardware will instantly upgrade the look of your room.
Ventilation – Your bathroom's worst enemy is moisture, and unfortunately, the bathroom sees more moisture than any other room. Proper ventilation and fans will help to ensure you do not encounter problems with mold, mildew and other unsightly and hazardous issues.
These few basics are just a start for things you want to consider when updating your bathroom design.
Boonton, NJ, Professional Contractors
When planning an update to your bathroom or kitchen, you should always consider consulting a professional contractor. Even if you are thinking of doing it yourself, electrical and plumbing work, flooring, and the like can create major headaches. contact us before starting, and we can help bring your kitchen and bathroom remodel to life.