"Which is better, granite or quartz?"
This is one of the most frequently asked questions that I get asked.
The answer to that depends largely on the end user. There are many benefits to both quartz and granite, and each have a few drawbacks as well.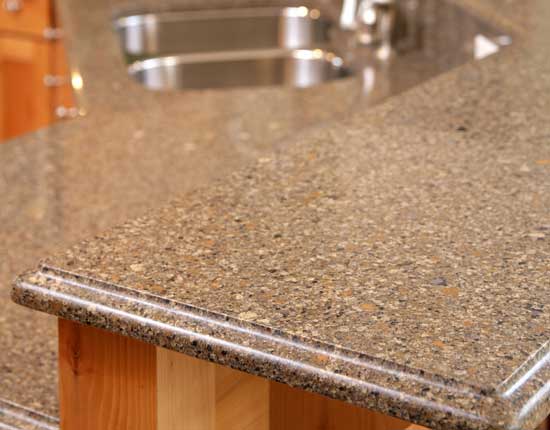 Quartz boasts a wide array of color options as well as solid colors. Quartz is also nonporous, which means that it's more resistant to staining and harboring bacteria, which is especially important in kitchens. Therefore, quartz is essentially maintenance-free.
Granite does require sealing this sealing needed to be done at least annually, depending on how it is cleaned and with what type of cleaner. Bleach and alcohol based cleaners' breakdown the sealers so if used will need to be sealed more frequently. Today, most granite fabricators use sealing products that will last 15 years. So, for all practical purposes, it's maintenance-free as well. Granite has bragging rights because of its natural beauty. Since granite is a natural product, Mother Nature has bestowed upon it variations in color and pattern that cannot be manufactured.
We get asked the question, "How much less would it be if I went with quartz instead of granite". The answer surprises many of our clients. Ten and even five years ago, granite was one of the priciest materials for kitchen countertops, but in recent years, pricing has been dropping to be the same as quartz, and in some cases, even less.
Why, then, would someone choose man made quartz when natural granite is comparable in price?
Quartz has the advantage of being more stain resistant than granite, even with the new sealant technologies out there. For a small space, quartz is great because it results in a more even look, whereas granite shines when it's used for a massive expanse, such as a large kitchen island.
Your preference in style plays a major role, Quartz tends to have a cleaner, more contemporary look because of the coloration of it, and granite yields more of a traditional and timeless appearance.
---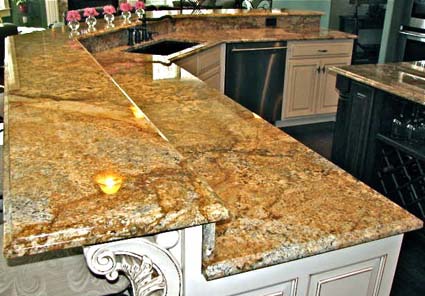 Quartz vs. Granite: Stone or Not?
If your only concern is whether or not your counters are 100% stone, this is pretty much a tie. Granite can come in the engineered stone version, but quartz is always engineered. What does "engineered" mean?
Prominent quartz countertop maker CaesarStone notes that 93% natural quartz aggregates are mixed with the remaining 7% of color pigments and polymer resins. The resins are there to bind the particles together. Engineered granite is made in much the same way. However, since a 100% version of granite (slab granite) is available, the balance shifts to granite.

Quartz vs. Granite: Cost
Prices of quartz and granite countertops are continually shifting, depending on the availability of the source product. Not only that, costs vary according to manufacturer, installer, homeowner's location, and so on. The moment you think you have a handle on the price of quartz and granite countertops, the price changes. However, at the moment of this writing, we can say generally that the prices of both range from $60-$100 per square foot installed. Neither is a great bargain.
Quartz vs. Granite: Radon
Radon in granite and quartz countertops is a contentious issue, and like pricing, one with shifting parameters. Radon is a radioactive gas that has been linked to lung cancer. Radon can be found in granite and quartz.
Consumer Reports indicates that a scientist found "almost no radon" in the engineered stones, and very little coming from the granite.

Quartz vs. Granite: Durability
Natural, slab granite, for all its beauty, has flaws and imperfections that homeowners either love, accept, or hate. But engineered granite has the flaws engineered out (quartz, too). In these two products, you will not find invisible striations just waiting to crack open some day, as you will find with slab granite.
So in the end, it all boils down to what you like. If you're looking for an old-world Tuscan kitchen and don't mind a bit of maintenance, granite is the answer, but if sleek and modern is what you crave, then quartz could be the clear choice.
If you are looking for a professional NJ remodeling contractor, then please call us today at 908-517-5581 or complete our online request form.