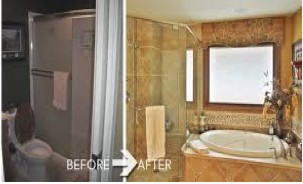 If there are two spaces in the house that get a lot of attention and constant remodeling, it has to be the kitchen and bath. These are spaces that get a lot of daily use and it only makes sense that kitchen and bath renovations get a lot of attention and a whole lot of money.
Some people like to remodel their kitchen and bath at the same time while others who have less money have to choose between the kitchen and bath so the big question is-when it comes to remodeling the kitchen and the bath, which is more complicated? This question about the kitchen and bath is something that homeowners really love to ask and it is about time they got the answer to their question about the kitchen and bath.
Which is harder to do?
The truth of the matter is, the degree of difficulty when it comes to remodeling the kitchen or the bath depends on how big the space is and what you intend to do. It also depends on the kitchen and bath designs that you have in mind. It only stands that kitchen and bath designs that are more complicated tend to be more challenging after all.
If your kitchen and bath designs are simpler and you want something more elaborate, then expect to spend more time and money on the project. If you are opting for simpler kitchen designs, you will spend less money and time on the remodeling as a whole. Below are some of the challenges when contemplating kitchen and bath designs so you can weigh which one is a more difficult project to undertake.
Common challenges when renovating a kitchen
1. Contractor fraud and faulty workmanship
This is a bigger problem than you think because every year, thousands of lawsuits are filed by home owners that are not happy with their kitchen. Remember, it is functional space and if things do not work out, it will be very difficult for you.
If you want the best for your kitchen, check the background of the contractor that you wish to hire for kitchen remodeling.
2. Project delays
You will want your kitchen remodeled as soon as possible of course because not having the use of your kitchen can be very daunting.
When looking for a company to remodel your kitchen, look for a contractor that will have a personal project manager for your kitchen project. He will make sure the kitchen job goes smoothly.
3. Hidden fees
Some companies may offer low rates for kitchen jobs but when they slap you with hidden fees at the end of the kitchen project, well that's just unacceptable.
Some kitchen designers will not provide complete estimates. Make sure your remodeling expert provides you with written estimates.
Bath remodeling challenges
1. Delay in pricing quotes
When it comes to remodeling the bath, some bath contactors are so eager to start work that they forget to give a proper estimate. This could pose as a problem for you at the end of the bath project.
Ask for a written estimate or quote before work starts on your bath.
2. Old pipes
Your bath pipes may look good on the outside so your bath contractor may not change them. But remember that some pipes rust from the inside out. You may have leaks in your bath pipes and the bath contractor doesn't check them.
Make sure they check the pipes thoroughly or you can check the bath pipes yourself.
3. Dain and lines
Replacing your bath tub isn't just a matter of getting rid of the old and bringing in a new bath tub. There are drains and supply sources to think of and redoing them costs a lot of money.