Performing a Soffit-Ectomy
How many times have you looked at those ugly soffits and wanted them out of your kitchen? Yes it will give you more room for cabinets, it'll open the space up to help give it height, and you can have your cabinets to the ceiling. Your sitting with your designer and in the plans the decision is made to remove them. Before you start selecting cabinets and crown molding ready to place your order here is my advice...
When your designer that is creating your dream kitchen removes the soffit to give you what you want in the new layout you are happy (but should you be?)
Not knowing any better and trusting that the deisgner knows what they are doing you place the order for the cabinetry and then wait until they arrive and imagine yourself in the beautiful new kitchen.
The contractor shows up and starts demolishing the old kitchen and says hey did you check the soffits before you ordered the cabinets ?
ASSUME - PRAY - PANIC - DELAY ... PAY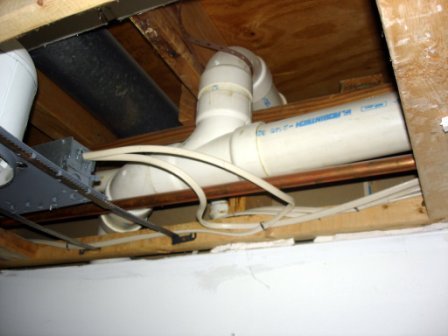 Only when the soffits come down the nightmare begins !
Why are there pipes in the way, a header that cannot be moved, a maze of electrical lines, a hidden ...
So begins a painful lesson - Look before you leap I was always told.
Your designer failed you and your remodeling because they assumed it would be alright.
There of course is a better way to remodel....PLAN - INSPECT - ORDER - ENJOY
Ideally before your design is created is the time to inspect. Very few designers or contractors will touch your home until you have signed a contract with them so you may have to do this step yourself. At KraftMaster before we order anything we open and inspect so there are NO unexpected surprises.


STEP # 1

Gaining access - Before the remodel begins cut access panels into the space with a sheetrock saw.

I have seen may people get excited about the thought of demolishing the sheetrock and use a hammer to open soffits for inspection. Certainly that is one way of gaining access alright, but you could do more damage than you think. While this seems like a fun approach, you dont know whats on the other side, what if there is a bathoom waste line right behind the sheetrock? You might just break it and have a costly repair that you dont need. Which if you do discover something that simply cannot be moved its much easier to repair a saw cut piece of sheetrock.

Step # 2

Inspecting - Use a flash light and looking all the way inside the area to be removed, you may have to cut a few holes thats ok because you want to be sure of whats inside.

Step # 3

Seeing it all !


Look everwhere inside, sometimes its hard to see inside or you just dont feel comrortable sticking your head in the access hole. Here is a trick I learned from one of our electricians, Chris Datson. Put in a flashight and then hold your cell phone inside and snap a picture or record a video if you have a lot to look at.

Step # 4

Closing it back up - Who wants to spend the next (6) weeks with holes in the ceiling? Depending on the season winter or summer you will be wasting energy heating or cooling the space. Also, you could have insecting in the soffit or even mice so there is no reason to keep it open until the remodel begins.

Step # 5

Patching it up- Put the piece you cut out back into place and secure it with masking tape. Several pieces will hold it while your new cabinets are being made and your remodel begins.

If your designer/ contractor takes a little extra time up front in planning it save everyone headaches in the end.
Remodelng doesnt have to become a nightmare. its actually a fun process and our clients have a hassle free time and get to enjoy the entire project from start to finish so call us to see if we can help you get rid of those ugly outdated soffits.
So far we havent found a soffit we couldnt make disappear !