How much Does bamboo flooring Cost?
Generally the cost of bamboo flooring for your kitchen can vary from $3.00 sq to $9.00 sq installation not included. Production expense is higher in engineered and stained bamboo flooring therefore increasing the cost for the consumer.
Color and Design options for bamboo flooring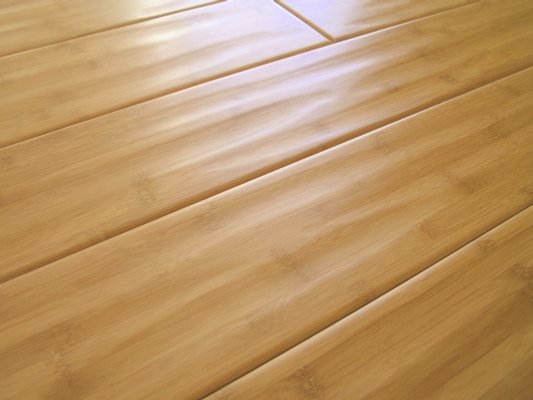 Less versatile in this category than the likes of vinyl and linoleum, however bamboo's luscious looks make up for it. Bamboo flooring was typically only found in light, natural, amber, and dark hues but now bamboo manufacturers have gotten more creative and color is no problem!
• Caramelized – Caramelized is simply a process where bamboo is steamed at higher temperatures to alter sugar and starch content which in turn will result in richer hues of coffee and cream.
• Staining – Some bamboo flooring manufacturers offer consumers a wider color variety by staining its surface.
• Design – There are generally two design choices to be made:
• Horizontal grain bamboo flooring is where floors are created from a wider horizontal strip creating a more obvious bamboo appearance. Nodes are visible.
• Vertical grain bamboo flooring is where floors are created from thinner strips resulting in a less obvious bamboo appearance. Nodes are less visible.
The Durability of Bamboo Kitchen Flooring
Bamboo is a remarkable material that is incredibly strong, however once a floor, bamboo takes on most of the same characteristics of hardwood making durability an important consideration.
• Scratch resistance – Like hardwood, bamboo flooring is susceptible to scratching. It is recommended to use padding under furniture to prevent denting or scratching. If you have pets, be sure to keep their claws in check!
• Strength – Bamboo flooring is very strong and is in fact stronger than most hardwood. When well maintained bamboo flooring can last a lifetime.
• Fire resistance – Bamboo flooring qualifies for the highest grade of fire resistance for that of hardwood flooring products.
• Water resistance – Bamboo is resistant to water but under no circumstance should water be left to pool on its surface. It is recommended that area rugs or mats be placed in front of the sink or stove to not only prevent wear but to also catch spills that may go unnoticed.
• Maintenance – Cleaning is relatively simple requiring light mopping and sweeping. Beware that sweeping is very important as these floors can scratch. Dirt, sand, and other granular particles under foot can make good opportunity for damage.
Construction and Installation of Bamboo kitchen Floors
Moisture will always be an important factor in kitchens so we recommend hiring a professional to install your bamboo kitchen flooring properly. Bamboo flooring for the kitchen is constructed today in a couple of ways: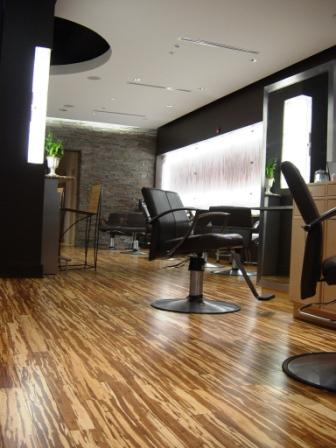 Solid Bamboo Flooring
This particular floor is the most natural of bamboo flooring products as the grain follows one direction throughout the plank. These floor planks or tiles are much less expensive to produce and therefore cost less, however they are also more troublesome to install as they must be nailed to a plywood sub-floor.

Engineered Bamboo Flooring
This innovative product contributed to the ease of hardwood installation today and is now also playing a roll in bamboo flooring production. In engineered bamboo, the grain layers are cross-laminated where one layer will run N-S while another runs E-W. This pattern lets bamboo gain strength and become less susceptible to humidity and temperature. Perhaps more importantly engineered bamboo flooring is much easier to install. Edge glued bamboo tiles and planks and click bamboo flooring can be installed over a concrete sub-floor, making bamboo a more accessible kitchen flooring product.

Bamboo Flooring and the Environment/Health
Bamboo has been praised for being an excellent green product for your home, however the opinion is changing. Bamboo is an extremely strong and versatile plant that is actually classified as a grass. It grows rapidly where shoots reach maturity in 5-7 years. At that time the plant actually benefits from the harvesting of those shoots.
For this reason, bamboo is an excellent choice as the cork tree is sustainable. The problem with bamboo lies in over planting and uncertified bamboo forests. In many regions of China and other bamboo supported nations, natural original forests are being clear cut to make room for more bamboo plantations. This has led to erosion, and the destruction of animal habitats.
Many bamboo flooring operations overseas are also uncertified meaning that human rights for employees and forest protection are not enforced which has generated the idea that bamboo flooring may not be so green at all!
If you would like bamboo flooring for your kitchen, be sure to demand that your bamboo flooring manufacturer is using Forest Stewardship Council (FSC) certified bamboo. This way you can feel better about your flooring choice and know that you in fact have a "green floor".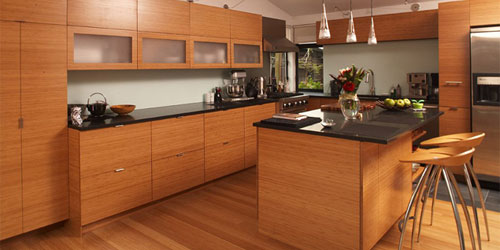 KraftMasters Opinion
Look'n Luscious!! Bamboo flooring's distinctively supple appearance is such an improvement to any kitchen. These floors will impress even the most ill-informed of guests! Bringing bamboo into your kitchen space provides a soft, durable and hardwearing flooring surface which will also increase the value of your home. Why deny it, try it!
The martini factor
When the party begins and the bottles rapidly dissipate, you may start to lose confidence in your guests as the night goes on, but have faith in that which supports you!!!
Bamboo kitchen flooring is somewhat shock absorbent so stemware and china can stand a chance to breakage. So you may be surprised to find that you actually saved a few bucks when your party was all drank and done.