While interviewing your designer make sure that its a good fit for you, do you trust this person?
Sometimes you just need a quick guide, a "how to" to get the ball rolling. Follow these tips and you'll be on your way to choosing the kitchen designer that is right for you. It's that easy.
You need to be organized and focused in order to make a reasoned evaluation. It's easy to be seduced by, well, so many things you encounter in a design studio or showroom, everything is so beautiful! But, don't mold yourself to the product, and be "stuck with" the design firm. Find a talented designer who you feel you can work well with and whom you respect. Good Great design work will follow, but first, ask these questions…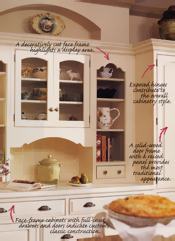 What do you think are good questions to ask? I would love to know!

How many design solutions (plans) do you provide? Hint: Three or more is what you are looking for. With one or two plans designed, the vision is most likely narrow and subjective on the part of the designer. You need to see the possibilities for your space. Otherwise, it's "coulda shoulda woulda."
How long does the process take? Two weeks? Four Weeks? According to your (the client's) timetable? This lets you know the timing expectations of the designer for the design process from start to completion. It also will tell you if this timing "fits" for you. You may also want to find out if the firm has a "policy" on changes during the design process.
May I see work samples? It is useful to see both images of completed projects as well as proposed designs. Oftentimes the bulk of a design firm's clientele may be of one "style" or another, depending upon the region, although the designer may have proposed alternative design solutions in an effort to move beyond the typical, and this would be very interesting to see, as it shows creativity. I have more "alternative" design ideas in my client files that my clients were too afraid to consider as the concepts were not "safe."
How do you keep up with new ideas, products, industry advancements? Does the designer ever leave the office? Does he/she go to kitchen and bath shows, seminars, conventions? Interior design shows? Subscribe to kitchen and bath industry publications? Have a library of design books? Read interior design blogs? There are many ways to keep pace with the ever changing kitchen and bath world, but it is important that this is done.
How long have you been designing kitchens? Just a minor detail…something you will want to know! In this business, experience is a good thing, provided #4, above is in place.
Do you have any special accomplishments that I should know about? Accomplishments within the industry show involvement, motivation, interest, and recognition, all important to have as part of one's resume/career highlights.
How mobile are you? Is the designer available for job site meetings, even (occasionally) on short notice? Can meetings take place at your home, or only at the design studio/showroom? This last question should not be a deal breaker…unless it is for you. Any availability via cell phone or pda? Mobility is a good thing. For me, I'll email 24/7 during off hours, but the phone takes a break from Saturday afternoon through Monday morning.
Will you give me cost alternatives or just one single cost at the end of the design process? Assuming you have already received an estimate (a separate issue) will the designer tell you during the process where there may be costly design decisions and make an effort to suggest lower cost options? I provide my clients with a limited "Chinese menu" of items at the end of the process, when presenting the final cost, to illustrate where particularly large cost items are seen in the plan, and offer substitutions. If a hood costs $10,000, which recently occurred, you may want to be aware of that cost! What's the cost procedure? And, what is the payment schedule?
How do you handle the labor? Can I use my favorite plumber and electrician? Do I need to purchase the labor through your company? Will you provide me with more than one contractor for estimating purposes? You should have freedom of choice here. That said, a team approach is a good way to proceed.
What will be your role after the sale of the cabinetry? Does the designer hand off the project to someone else in the firm? If so, you may want to meet the project manager. How often will you see a presence from the firm during installation?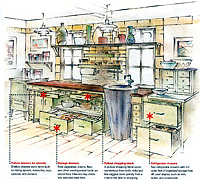 And the bonus question: What if something goes wrong? What are the policies of the firm? What issues are likely and unlikely to arise during the project in the firm's experience? Who is responsible for what, when, and why? This is such a large question, it bears a separate post, however, the germ of the issue is presented. Think of your own difficult scenarios and ask questions. Look for a reasoned response, service focused.
Sure, there are other questions you need to ask, which I will cover at another time. These came to the forefront, covering a balanced criteria of design, money, and logistics issues. I recommend that you actually write down a list of questions and go in with those questions at hand and start the interview process!