When building a new home, you get the chance to create your own space which can reflect your personality. Trends have been changing faster in the recent years, and staying up to date with the latest trends can be tough!
However, you can avoid having an outdated look when you build or renovate your kitchen if you know the usual mistakes. Try to stay away from the following to make your kitchen more modern and in style: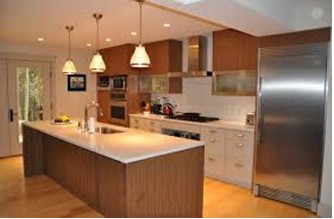 The wrong island
Modern kitchen designs often have islands in them, and having one can give you that stylish effect. However, you ought to be careful when choosing your island. Consider if you really need one. If your kitchen is small, it would be best to forgo having an island despite your desire for more workspace or storage. Capitalize on your counters sans an island for smaller spaces. For bigger spaces, make sure your island is proportional to the rest of the area, and that it matches both the color scheme and overall look of your area.
Poor lighting This can refer to having less than satisfactory lighting fixtures or not being able to make room for a window. Having a window or two can give you great natural light in your workspace. Investing on sleek lighting pieces instead of messy crystal-chandelier like ones can also make your kitchen look more modern and sophisticated.
Vessel sinks There was a time in the not so distant past when vessel sinks became the "it" choice for sinks. Sadly, they still give off an outdated feel especially since modern kitchen designs tend to go for more streamlined effects. Vessel sinks take up more space than what is necessary. Not only do these sinks stick out like a sore thumb, they can also limit the functionality of your sink for when you're actually washing dishes already.
Hanging pot racks Usual modern kitchen designs tend to be more on the minimalist side and follow the idea that having less details seen can give it a more modern touch. Hanging pot racks just go against the modern vibe that kitchens today now sport. While they can be good storage, they tend to obscure a better view of the kitchen's fluidity. Instead of seeing the kitchen as a unified whole with its sleek finish, the hanging pot racks can split one's view of the space and may even look like a mess to some. Make an effort to have enough storage space for your pots and pans to keep them out of sight when not in use.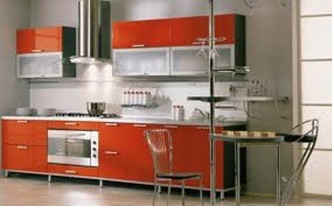 On-counter appliances While having the latest kitchen appliances can be indicative of just how modern your kitchen really is, displaying all of them on your counter can actually lead to an outdated look. Keep the gadgets stored properly in drawers and cabinets and bring them out only on an as needed basis. But what about microwaves? Instead of putting your microwave atop your counter, design your counters in such a way that you can designate a microwave drawer or space underneath. This makes them fit in seamlessly.
Too much color The key to achieving modern kitchen designs is to carefully plan your color scheme. Try not to have more than 3 colors or else they would just clash! Neutral shades are always in. If you want bright colors, choose which one you would like to focus on and stick to it. Stay away from colorful appliances too unless you want to make them your kitchen's focal point. Coordinating your color scheme can help you have a sophisticated and appealing modern kitchen design.