Thanks to Topline, kitchen designers can stay on top of todays fast changing appliance offerings.
I recently attended a Thermador Kitchen Designer Night at Topline Appliances located in their Westfield, NJ Showroom. The event was on a Thursday evening starting at 5:30 and running until about 7:30. They had the Thermador corporate chef there preparing food as well as the area sale rep talking about the great new designer and personal use programs Thermador has launched for 2011.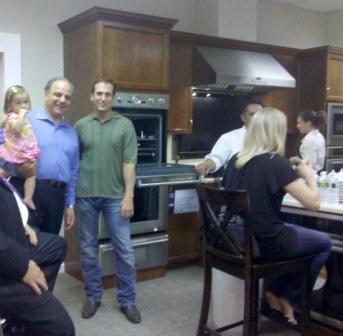 It was a great way to learn more about the product and participate in some best practice exchange with other designers and kitchen remodeling design firms. Of course the owner John Moretti made sure that everyone got to enjoy some great food and drink. I was amazed that the chef started with several different types of appetizers, followed by a couple of main course items.
All demonstrating the cooking capabilities of the Thermador appliances. I wish I'd had time to stay for desert! Next time I will be sure to bring a few clients that are considering remodeling their kitchen. Seeing these cooktops in action makes a world of difference, if only the chef came with the package !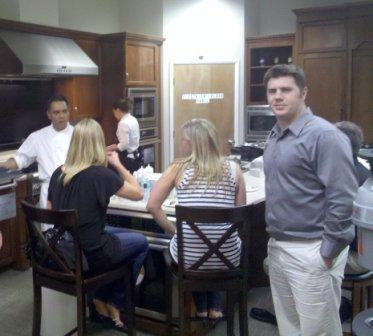 Our account manager Adam Loffredo and the rest of the staff was there too answering any questions we had about the products. Some of the things that were really interesting are these features, exclusive to Thermador.
Star® Burners
The Star Burner's unique design directs heat evenly from the center of the pan to its edges for faster time to boil and superior heat spread.
More Even Heat
The Star Burner's unique shape delivers superior flame spread and a reduced cold spot when compared to a round burner.
ExtraLow® simmer
Our ExtraLow feature simmers items without scorching. It's a perfect solution for warming delicate sauces and melting chocolate.
The owner John, really spends the time educating his team and it shows in the enthusiasm of the entire team. Its no wonder that everyone of my clients make their purchases at Topline appliances.
For more information contact John Moretti at Topline (908) 232-5200 or visit them at www.toplineac.com